2020 Employee Recognition
Hydes Employee Appreciation – June 2020
Due to COVID-19, Hydes did not hold their annual business meeting and employee appreciation to gear up for the summer season. Instead, Hydes still honored all employees with gift bags that included certificates, personalized anniversary pins, Starbucks cards, keychain, stress-ball and encouragement letter from company management. Longtime employees received a camping chair with the Hydes logo on it.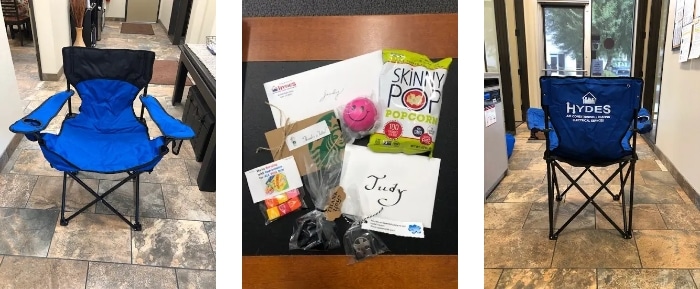 2019 Employee Recognition
Hydes All Company Business Meeting & Employee Appreciation – June 5, 2019
Hydes held their annual business meeting & employee appreciation to gear up for the summer season. Employees were treated with a full breakfast catered by Goody's Café followed by the All Company Business Meeting.
At the end of the meeting, Hydes honored all employees with certificates, personalized anniversary pins, Starbucks cards and longtime employees received a backpack with the Hydes logo embroidered on it. Employees from 1 year with the company up to 31 years with Hydes were honored. Hydes honors all employees on this day even if your anniversary has already passed or is coming up later in the year.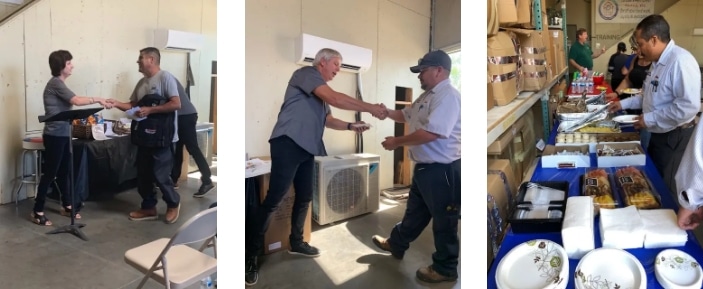 2018 Employee Recognition
On June 6th we held a special celebration and employee recognition for all Hydes employees recognizing them for their many years of service to the company and customers.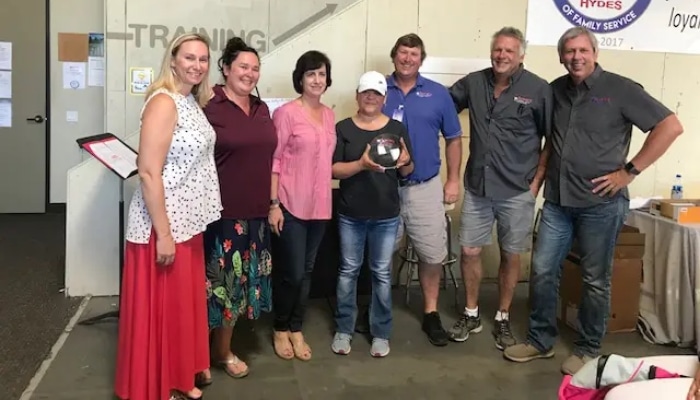 We started the morning off with a catered breakfast then continued with our all company mid-year business meeting followed by employee recognition. Employees were given a certificate and personalized anniversary pin along with gift cards and other special gifts depending on the number of years that they have been with the company.
We had a special recognition award for our Dispatcher/Assistant Office Manager, Lisa Quintana who has been with Hydes for 30 years!
Our employees are great and it is an honor for us to honor them!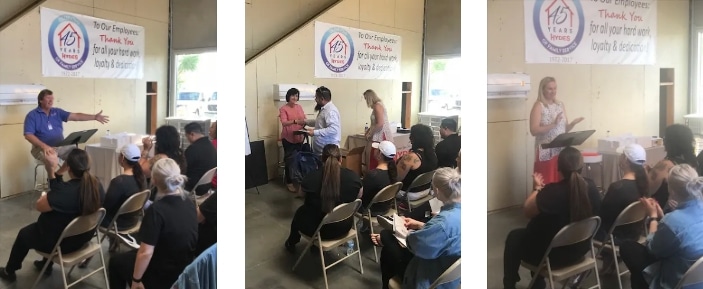 2017 Employee Recognition
The End of an Era…it's Bittersweet!
Our appliance and NATE Certified HVAC technician, Denny Hayes, has retired after 28 years of service. We appreciate Denny's years of service, dedication and being our "one-man-show" appliance technician. He also repaired his share of air conditioners over the years.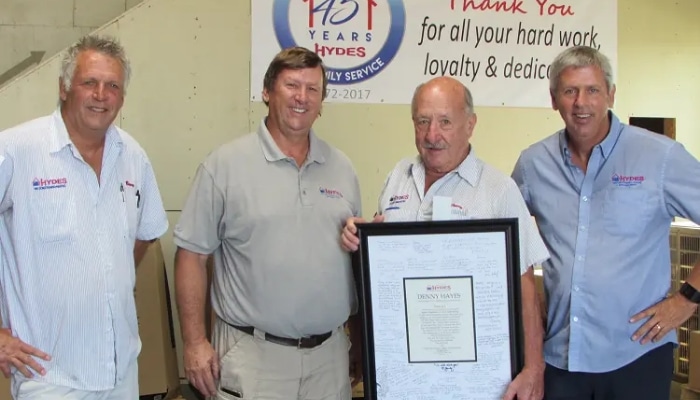 Denny will be missed and we wish him all the best in this next chapter of his life. He will be moving from the Coachella Valley to Colorado. Just as Denny starts a new chapter, Hydes is closing one. It is bittersweet for us as we say goodbye to Denny but also the appliance department of our company. The appliance business has changed over the years, resulting in a smaller number of new technicians entering the field. This issue and the lack of a qualified replacement have led us to decide to close the appliance division of Hydes.
Our dad, Brian Hyde, started Hydes Quality Appliance in 1972 and we are thankful for his vision, entrepreneurship and hard work. As Hydes Air Conditioning celebrates over four decades in business, we celebrate our past, present, and future. Our dad's vision to add air conditioning repair and sales to Hydes back in the early 1980's enabled us to grow and adapt in the evolving industry, and will forever remain part of his legacy.
Lastly, we thank our loyal customers, as we would not be celebrating 45 years in business without you! Rest assured that even though the appliance division of our company is closing, we will continue to be here for all your air conditioning, heating and air quality needs. Hydes will continue to strive for excellence in every facet of our business and embody our mission to to provide the best comfort, service and air quality possible, for the best price.
Warmly,
"A Family You Can Trust."