Landscape Lighting Installation & Repair Near Indio, CA
Whether you're entertaining guests on the patio or looking to illuminate your landscape, installing outdoor lighting is one of the quickest ways to modernize and makeover your home and yard. From LED solutions for a backyard glow to security lights to keep your family safe, Hydes will make your vision come to life.
Call Hydes to revamp any outdoor space with lighting installation from the trusted electrical service pros.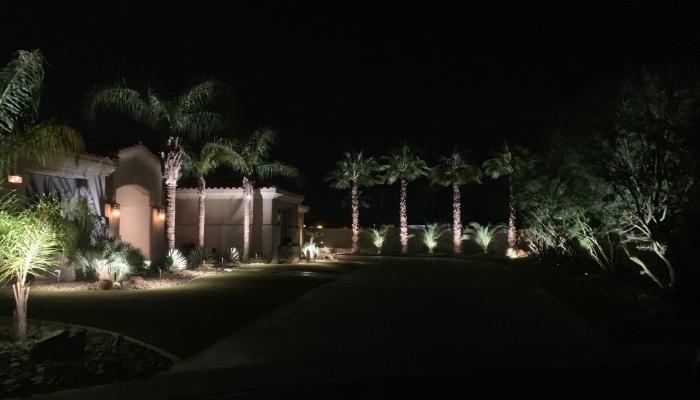 How much does it cost to have outdoor lighting installed?
The approximate cost of installing outdoor lighting in the Coachella Valley is between $2,000 and $4,500. A setup with simple incandescent path and deck lights costs between $2,000 and $3,000. A high-end system with designer, motion-activated or solar-powered lighting costs between $5,000 and $6,000.
Often included in the cost of installing outdoor lighting:
Materials & Supplies – Materials include the light fixture as well as supplies including conduit, connectors, fasteners and junction boxes.
Labor – The labor price includes the installation of the outdoor lighting. If an update to your home's electrical system is required to handle the additional lighting, the labor cost will be increased.
Although it may be more expensive at first, installing LED lights may save up to 75% of the energy consumed in your house. LED is the way to go if you want a long-term lighting option that also doesn't require any maintenance.
Is outdoor lighting worth it?
Outdoor lighting can be worth it for various reasons, depending on your specific needs and preferences. Here are some benefits to consider:
Enhanced Safety:

Well-placed outdoor lighting can improve safety by illuminating paths, stairs, and potential hazards, reducing the risk of accidents.

Security:

Adequate outdoor lighting can deter trespassers and burglars by providing visibility and reducing hiding spots.

Aesthetics:

Outdoor lighting can enhance the curb appeal of your home, making it more inviting and visually appealing.

Functionality:

It extends the usability of outdoor spaces during the evening, allowing you to enjoy your garden, patio, or outdoor entertainment areas.

Property Value:

Thoughtfully designed outdoor lighting can increase the value of your property.
However, it's important to consider energy efficiency and cost when planning outdoor lighting. LED fixtures and smart lighting options can help minimize energy usage and expenses. Ultimately, whether outdoor lighting is worth it depends on your goals and budget for your outdoor space.
Enjoy Your Space Day Or Night With Hydes Outdoor Lighting
Lighting up your outdoor spaces with Hydes installation services is a quick and easy way to bring your patio or landscape new life. Your exterior design will:
Deter crime to keep you and your family safe. Even subtle outdoor lighting can be enough to discourage unwanted visitors from approaching your home in the dark. Security lights, motion sensors and other external lights may increase your home's safety, giving you peace of mind all through the night.
Enhance your home's property value and curb appeal. Landscape and patio lighting is a long-term investment that you'll enjoy now and be thankful for later should you ever put your home on the market. Your home will be the envy of the neighborhood and a homebuyer's dream with outdoor lighting design by Hydes.
Show off your patio or landscape 24/7. You put a lot of work into making your house a home! Why only show it off during the day? Showcase your front lawn, backyard, seasonal décor and more with help from the lighting experts at Hydes.
Bring your outdoor entertainment to the next level. When it comes to entertaining, don't let the party stop when the sun goes down. Wow your guests with an outdoor oasis to make the most of any California evening. Hydes will help you brighten the night with outdoor lighting installation that meets your needs for any occasion.
The Brightest In The Business For Outdoor Lighting Near Coachella Valley, CA
Looking to add personality to an outside space? Wanting to increase security around your home so you can sleep more soundly? Outdoor lighting installation from Hydes will capture your vision for any area, big or small. What makes your home unique isn't limited to what's inside.
Outside lights give you more opportunities to express your style so you can get excited about showing off your space, knowing it's crafted just for you. Hydes expert electricians will help you make the most of your patio or landscape with LED options and more that will have you excited to go outside.
Contact Hydes for safe and secure installation so all you have to worry about is planning your next backyard get-together.