Coachella Valley, CA Experts For Electrical Repairs Big & Small
Nothing puts a damper on your daily routine like an unexpected electrical issue. From panel tune-ups to frayed wires, the professionals at Hydes have you covered. We're experts in safely assessing and repairing electric issues of any size. Call Hydes for electric repairs you can trust to keep your system running in and around the Coachella Valley.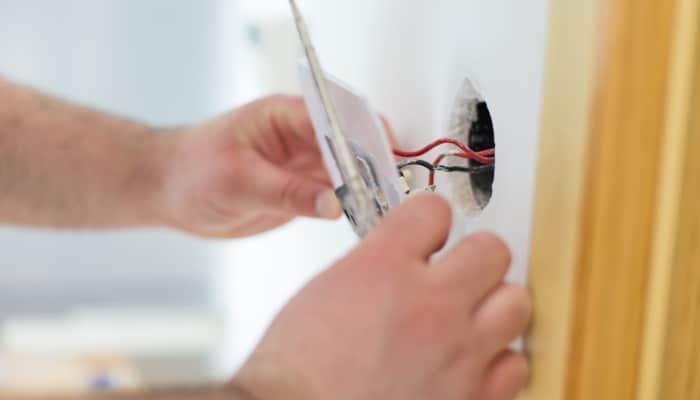 Are You Overlooking Common Electrical Problems?
Do you never seem to have enough electrical outlets? Power strips and extension cords are handy but should never be used in every outlet. Too many wires around your home can quickly become a safety and fire hazard. Hydes will install extra power outlets to make sure you've got power when and where you need it in your home.
Has your electricity bill gone up? While electric bills always spike in the California summers, unexpected increases may warrant a closer look. Damaged electrical equipment or outdated devices could be draining your power. Hydes will help install energy-saving repairs that your wallet will appreciate.
Are your light bulbs burning out too quickly? Bulbs going out before the end of their expected lifespan may be a sign of a bigger electrical problem. You could have an issue with wattage, voltage or faulty wiring. You should always consult with a professional to avoid personal injury when investigating premature bulb burnout. Hydes' electricians will get to the bottom of the problem so you can make the most of your lights.
Do light switches or appliances give you a shock? Electrical shocks, no matter how minor, are potential signs of a bigger issue. Shocks from light switches and appliances could be a sign of an electrical leakage or wiring issue. Contact Hydes to have a professional assess the issue and determine the safest repair plan.
Play It Safe & Call The Electrical Repair Pros
Never take electrical problems lightly and always call a professional for help. Even seemingly minor electric issues may have more dangerous causes lurking under the surface that only a certified electrician can see. You should never take the risk of inspecting or repairing electrical concerns on your own. When power is involved, the risk of injury to yourself, others and your home is heightened.
Hydes is dedicated to making sure your home is safe from electrical dangers. We're trained professionals and ready to help with any problem, big or small. Hydes is happy to be your trusted team for electric repairs near Indio, CA.