Mini Split Systems near Indio CA
Ductless air conditioning systems, also called ductless mini splits, are perfect for those who live in tight spaces or want an energy-efficient cooling system for their Indio, CA, area homes. They can be installed quickly and easily without the need for ductwork, which means they're much easier to manage than a standard type of HVAC system installation service!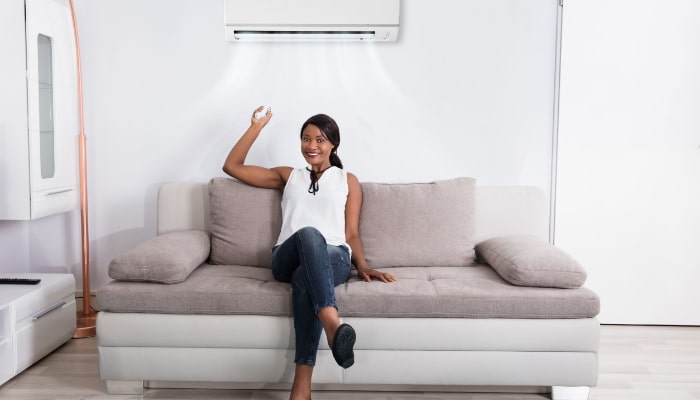 What Are Ductless AC Units?
Ductless air conditioners are a type of split system HVAC that doesn't require ductwork to cool or heat your home. Instead, ductless air conditioners have an indoor and outdoor unit that is connected by a small conduit. The indoor unit is usually mounted on a wall and blows air into the room, while the outdoor unit houses the compressor and condenser.
Ductless heating and air conditioning systems are a great option for older homes that don't have ductwork or for rooms that are difficult to cool or heat with your current HVAC system. Have an addition or basement that is not climate controlled? With a mini split, you can keep any room comfortable with ease.
They are also more energy efficient than traditional HVAC systems, making them a great choice for anyone looking to save money on their energy bills.
Hydes has installed hundreds of mini split units in garages near Indio and throughout the Coachella Valley. Our customers love the quiet, room-filling cool that mini splits provide–and the energy savings, too.
Where would it make sense to install a ductless mini split?
Because ductless mini splits are designed to condition individual spaces in your home, they are not typically used as a home's main source of heating and cooling. Instead, they are used to condition spaces that don't currently receive heating and cooling from your main HVAC system. In homes here in the Coachella Valley, ductless mini splits are most often installed in garages or in additions such as a sunroom.
The Benefits of Ductless Mini Splits
Quiet Operation
Ductless air conditioners are comprised of an indoor and outdoor unit, which allows for a peaceful inside environment by enabling the contractor to install louder components like compressors and motors outdoors.
Energy Efficient
Because there are no ducts, Halcyon systems lose less than 5% cooling vs. up to 40% for traditional forced-air systems. Increased efficiencies up to 27.2-SEER mean lower utility bills. Several models are even Energy Star Qualified, meaning they save you on your utility bill.
Individual Zoning
Why pay to heat or cool areas that no one is occupying? Individual zoning allows you to heat or cool the areas you want, and not the areas that are unoccupied.
Get the Best Mini-Split System for Your Home
The air you breathe can be conditioned or dry, depending on the season. Those who live in Indio and surrounding cities like Palm Springs should consider a ductless HVAC system for their home because it's more efficient than other types of home heating and air conditioning equipment. Our HVAC pros will offer you the best options, such as a mini-split heat pump system installation for those who want to "Go Green" too.
Ductless Systems are Quiet, Efficient & Affordable
If you are not sure whether or not a ductless system is right for you or your Indio, Palm Springs, Palm Desert and surrounding Coachella Valley home, call your local family-owned and trusted American Standard HVAC system experts at Hydes. We'll be happy to answer your questions and go over all your options. We provide quality services for your current ductless heating and cooling system and can help you upgrade to one.