New Air Conditioning, Heating Systems & Heat Pumps near Indio, CA
Hydes takes exceptional care installing your new air conditioning system near Indio CA. No matter whether we are simply replacing old equipment or performing an Energy Star Quality Installation, we perform commissioning tests to ensure your HVAC system is operating properly. Our trained HVAC technicians will design a system that fits your individual needs, budget and size of your home.
We also pride ourselves in being able to repair any system no matter the make, model or issue with your HVAC or heat pump system. When you are deciding to repair or replace your air conditioner, rely on Hydes 50+ years of experience and satisfied customer base in the Coachella Valley.
As part of our Hydes Quality Assurance (HQA) HVAC installation process, we'll perform a complete inspection of your present system and your home to ascertain how we can improve your comfort and increase energy efficiency. You won't regret trusting our family-owned business for your new system installation!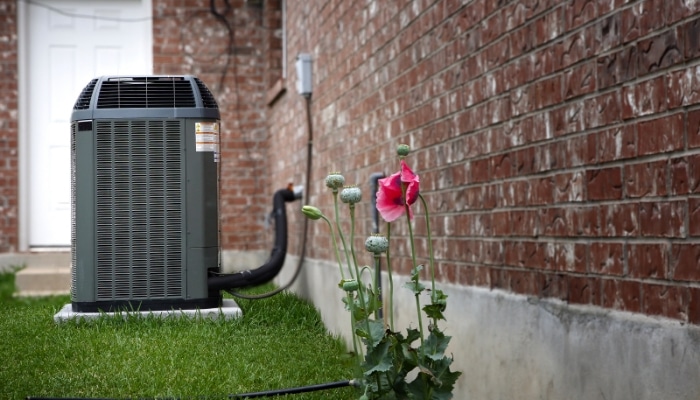 Heating & Cooling Installation FAQs
How long should my home AC system last near Indio?
Expect to replace your air conditioner when it's around 10-15 years old assuming you maintained it well during its lifetime. The four most common signs that your air conditioning unit needs replacing are:
The frequency with which you must call for repair.
The age of your unit.
A steady increase in your electric bills.
Your system uses outdated and discontinued parts.
How do I determine what size AC system I need for my home?
Hydes is happy to provide a free heat load calculation when you replace your HVAC system and we professionally measure your home and determine the best size AC system for your cooling needs.
What is a good SEER rating for an air conditioner near Indio?
A full time resident of the Coachella Valley a SEER rating of 17 or greater is recommended. A SEER rating of 15 or greater is considered good for part time residence in our area.
Ask about the new SEER2 ratings and how they can affect your HVAC system.
What type of financing is offered for a new AC system near Indio?
We have financing options available. We've partnered with Wells Fargo National Bank to provide you with financing alternatives for home improvement projects. You can enjoy monthly payments that are convenient.
Quality Installation | Review from Lisa - Coachella Valley
" Living in the Coachella Valley, one knows you absolutely need air conditioning. My A/C Unit was on its last leg and when Jonathan came over this past weekend, we got my new Unit quickly ordered and my dog and I got a "Staycation" at a local hotel for a couple of days. Josh and Jesus installed my new unit and now we are living the cool life back in our home. You have a customer for life! The whole team at Hydes is top-notch! I can't recommend them enough!"
Expert AC Installation Throughout the Coachella Valley
Proper installation is essential in order for your new air conditioning system to operate effectively and efficiently. At Hydes, we pride ourselves on the expertise of our installation team. We devote many hours to on-the-job and factory training. Hydes has invested in an on-site training facility that features working equipment to ensure that our technicians are prepared for any installation challenge.
We perform Energy Star Quality Installations, which means Hydes must adhere to a rigorous system planning and installation program that helps ensure your heating and cooling equipment is operating at its fullest potential for your investment, and your entire system is working in harmony to deliver the most comfort for your hard-earned dollars.
From a comfort perspective, this means your home could rank in the top 5% in the nation in terms of even year-round indoor comfort and optimum Indoor Air Quality (IAQ).
Every Hydes customer can expect to receive service that meets the highest standard of professionalism and workmanship. We do the job right, from the day we come to spec out the system, to the day we switch it on.
The Benefits of Heat Pump Replacement
Replacing your HVAC system with a heat pump in the Coachella Valley can be a great way to improve the energy efficiency and comfort of your home. The Coachella Valley is a warm desert climate, making a heat pumps an ideal choice for heating and cooling your home.
Key Benefits of Heat Pumps Compared to HVAC systems:
Federal Tax Credits and State Rebates: ask about available credits and rebates for heat pumps that meet state and federal efficiency standards.
Energy efficiency: These systems are highly energy efficient because they move heat rather than generate it. It can provide up to 3 times the amount of energy they consume, making them an efficient choice for your home heating and cooling needs.
Climate versatility: Heat pumps can both heat and cool your home, making them a versatile choice for our Southern California climate. They are especially effective in mild climates like the Coachella Valley.
Low emissions: They do not burn fossil fuels, which means they do not emit any harmful pollutants or greenhouse gases, making them an environmentally friendly option.
Lower operating costs: Because they are highly energy efficient, they can save you money on your energy bills over time.
Comfort: Heat pumps can provide a more consistent level of comfort throughout the entire house.
Heating Replacement & Installation near Indio CA
Deciding when to replace one of your home's major appliances is never easy, and your HVAC system is no exception. You spent good money on your home heating system so you want to ensure you get the most out of your investment. But there's also no point in continuing to operate a furnace that is declining in performance. So how do you know when it's time to replace your heater unit?
When Should I Replace My AC System or Furnace?
How old is your system? If you take good care of your HVAC system, you can expect it to last somewhere between 15-20 years. If yours has reached that age, it may be time to consider replacement.
Will you be replacing your AC system soon? - If you're planning on replacing your air conditioner soon, you should also replace your heating system at the same time or consider a heat pump replacement.
Does your home stay warm? - One of the best indicators for whether or not you should replace your HVAC system is your home's comfort level. If your air conditioner or furnace is no longer able to keep your home as cool or as warm as you'd like (and it's not due to any mechanical issues), then there's no sense in continuing to keep it.
How frequently does it break down? - Think about the number of HVAC repair calls that you've had to make over the past few years. Instead of spending money on repairing a heating or cooling system that is reaching the end of its life, it would be better to put that money toward a brand-new unit that won't break down. This is especially true if you must make an expensive repair on an older furnace or air conditioner.
What's the efficiency rating? - HVAC systems today are more efficient than ever before. With a high-efficiency system, you can be warmer or cooler and more comfortable all while using less energy and spending less money on your power bills.
New HVAC Unit System Installation Preparation
Before we even begin an installation, we take the time to size the system properly so it matches your home's needs.

We then provide you with a written contract detailing the main elements of your installation, including the results of a cooling load calculation. We back our work with a written warranty on equipment and workmanship, along with a money-back guarantee.

At Hydes, we follow the law as stated in Title 24 and pull permits for installations that often other companies don't. We also pay for an independent HERS (Home Energy Raters) to inspect and verify that your new system is running efficiently and within the California Energy Commission (CEC) requirements. The purpose of this is to ensure that your system will perform to its maximum energy standards.

Our customer service representative will schedule your installation on a day that is convenient for you and your family.
What to Expect on Installation Day!
Our installation team will arrive on time and will respect you, your house and your property. We wear shoe covers and also put down drop cloths to protect your home.

Hydes installers will remove and take away your existing equipment (we do recycle old equipment), oversee the delivery of your new equipment and install it the same day.*
*Most installations are up and running the same day.

Once the new system is installed, our team performs an extensive series of tests which includes air flow, static pressure, refrigerant charge, fan watt draw, temperature rise, and a duct leakage test. These tests will be done on the same day or the following day, depending on the difficulty of the job.

Our install technicians will demonstrate operation, maintenance, and thermostat features to you, so you can be knowledgeable and comfortable with your new system.
Request Your Free Estimate on a New AC, Heat Pump or Furnace Today!
Hydes goes above and beyond to ensure that each of our installation techs is ready for any air conditioning installation challenge. We continually train our team at our on-site training facility to keep pace with changing techniques, technologies and in keeping with industry standards.
Hydes is an air conditioning innovator. Our goal with each system we design is to maximize your comfort while minimizing your energy use. Customers who demand ultimate system performance opt for Energy Star Quality Installation.
No matter which installation option you choose, you can count on us to install your system cleanly, professionally, and efficiently, with as little disruption to your daily routine as possible.
We proudly offer complimentary estimates on new systems and financing options. Connect with us today to get started!