Electrical Panel Repair, Replacement & Upgrade Near Indio, CA
The electrical panel is the hub of a vast system that keeps your home powered. Every breaker, circuit and wire plays a crucial role in sending power through your home. Call a professional to avoid personal injury if your breaker panel is on the fritz. Our licensed electricians are here to help with repairs, replacements and upgrades. Hydes will ensure your electrical breaker panel delivers the power your home relies on.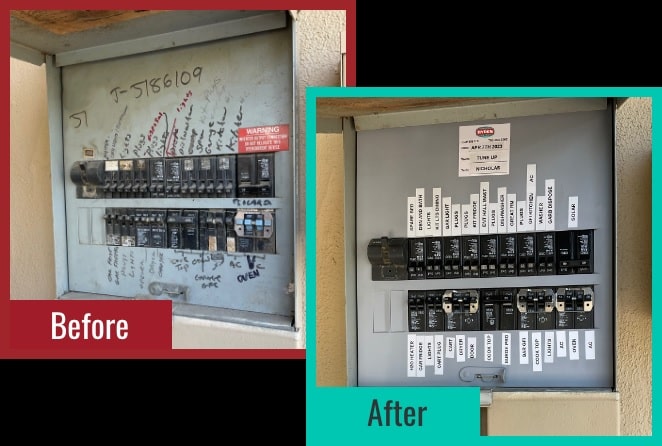 Know When To Call An Electrical Panel Professional
Buzzing and humming noises coming from your electrical breaker are signs to call Hydes, the licensed professionals. We'll send an electrician to address any potential fire hazards and get your system
running like new.
If you notice any crackling noises, a burning smell or feel heat coming from the system, do not attempt to repair it yourself and

call 911

.
Breakers frequently tripping may be a sign that your panel is overloaded and in need of service. If you've noticed the circuit breaker tripping, the system may not be able to accommodate your home's electrical demands. Hydes will determine the best plan to ensure your system is up to the task of powering your home.
Flickering or dimming lights are not only a nuisance but a sign of a potential electrical problem. When changing the bulb doesn't do the trick, it's time to call Hydes. We'll determine any problems with the electrical box that may be posing a safety hazard and disruption to your routine.
Buying or renovating a home is an important time to consider the age of your electrical panel. If the panel was installed when the home was built, it may be outdated or worse, obsolete. Outdated electrical box pose a fire hazard and run the risk of needing replacement parts that are no longer in production. Whether or not your breaker panel has obvious signs of aging like rust and corrosion, it's important to have a professional at Hydes make sure it's up to date.
Electrical Panel Pros That Care
It's easy to forget how much you rely on your electrical panel throughout the day until it needs repair. When you notice a problem, Hydes knows there's nothing more important than getting back up and running as soon as possible. It's important to stay on top of any electrical issues, as they can quickly become fire and safety hazards. Leave it to the professionals at Hydes to make sure your electrical panel is up to the task of powering your home. Call Hydes at (760) 360-2202 to take the guesswork out of electrical panel repair, replacement, and upgrade near Indio, CA.