Electrical Panel Repair, Replacement & Upgrade Near Indio, CA
The electrical panel is the hub of a vast system that keeps your home powered. Every breaker, circuit and wire plays a crucial role in sending power through your home. Call a professional to avoid personal injury if your breaker panel is on the fritz. Our licensed electricians are here to help with repairs, replacements and upgrades. Hydes will ensure your electrical breaker panel delivers the power your home relies on.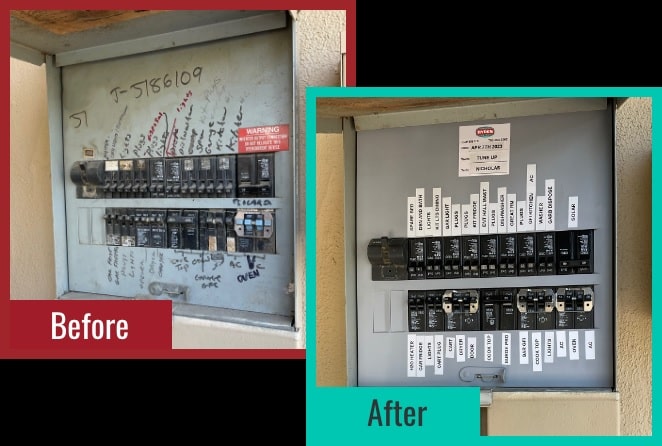 Know When To Call a Circuit Panel Professional in the Coachella Valley
Buzzing and humming noises coming from your electrical breaker are signs to call Hydes, the licensed professionals. We'll send an electrician to address any potential fire hazards and get your system
running like new.
If you notice any crackling noises, a burning smell or feel heat coming from the system, do not attempt to repair it yourself and

call 911

.
Breakers frequently tripping may be a sign that your panel is overloaded and in need of service. If you've noticed the circuit breaker tripping, the system may not be able to accommodate your home's electrical demands. Hydes will determine the best plan to ensure your system is up to the task of powering your home.
Flickering or dimming lights are not only a nuisance but a sign of a potential electrical problem. When changing the bulb doesn't do the trick, it's time to call Hydes. We'll determine any problems with the electrical box that may be posing a safety hazard and disruption to your routine.
Buying or renovating a home is an important time to consider the age of your electrical service panel. If the fuse box was installed when the home was built, it may be outdated or worse, obsolete. An outdated electrical box pose a fire hazard and run the risk of needing replacement parts that are no longer in production. Whether or not your breaker panel has obvious signs of aging like rust and corrosion, it's important to have a professional make sure it's up to date.
Electrical Panel FAQs
How much does it cost to upgrade an electrical panel near Indio?
The price to upgrade an electrical panel can be changeable when considering items such as the panel's size and capacity, the complexity of the installation, and the location of the property. On average, the cost of an electrical panel upgrade can range from $1,000 to $3,000 or more. However, it's essential to get quotes from licensed electricians for an accurate estimate based on your specific needs and the requirements of your electrical system.
Do I need a permit to upgrade my electrical panel in the Coachella Valley?
In most cases, yes, you will need a permit to upgrade your electrical panel. Electrical panel upgrades involve significant changes to the electrical system, which must comply with local building codes and safety regulations. Obtaining a permit ensures that the work is done correctly and inspected by the appropriate authorities. The permit process varies depending on your location, so it's essential to check with your local building department to determine the specific permit requirements for an electrical panel upgrade in your area.
Is it worth upgrading an electrical panel?
Yes, there are a number of reasons why changing an electrical panel can be worthwhile. With a more advanced panel, you may add more electrical fixtures and appliances to your house without worrying about the system being overloaded. By lowering the possibility of electrical fires and enhancing circuit protection, it improves the safety of your electrical system. Arc fault circuit breakers and ground fault circuit interrupters are two features that a more modern panel might have, giving your home and family greater security. Your electrical system can perform more effectively, safely, and efficiently overall with an upgraded electrical panel.
Electrical Panel Pros That Care
It's easy to forget how much you rely on your circuit distribution board throughout the day until it needs repair. When you notice a problem, Hydes knows there's nothing more important than getting back up and running as soon as possible. It's important to stay on top of any electrical issues, as they can quickly become fire and safety hazards. Leave it to the professionals at Hydes to make sure your junction box is up to the task of powering your home.
Call Hydes at  (760) 360-2202 to take the guesswork out of electrical panel repair, replacement, and upgrade near Indio, CA.