September is Thyroid Cancer Awareness Month
Hydes Air Conditioning donates $10 to the American Thyroid Association for every Hyde Family Comfort Club Maintenance Agreement sold or renewed during the month of September.
This year we met our goal to donate up to $6,000 to the American Thyroid Association (ATA), which is a non-profit organization dedicated to the advancement, understanding, prevention, diagnosis and treatment of thyroid disorders and thyroid cancer.
Hydes has donated $6,000 in 2023 and for the last 8 years we have raised and donated $27,500 to Thyroid Cancer awareness and research.
Thank you for all your support!
To learn more about the American Thyroid Association go to www.Thyroid.org and don't forget to do your thyroid neck check at your next doctor's appointment.
What is Thyroid Cancer?
Thyroid cancer is a tumor that develops in the thyroid gland found in the neck. This cancer is commonly diagnosed at a younger age than most adult cancers but has been known to occur in individuals anywhere from infancy to old age.
Women are three times more likely to develop thyroid cancer than men.
The American Cancer Society estimates there will be about 43,800 new cases of thyroid cancer in the United States in 2022.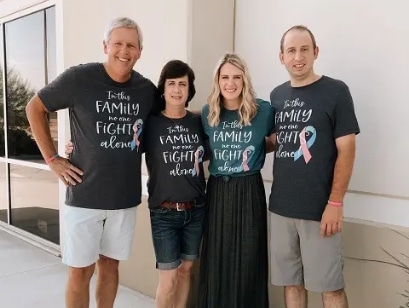 Our Story
Thyroid Cancer first touched the Hyde Family in 2016 and has inspired our company to help spread the word that September is Thyroid Cancer Awareness Month.
Mark & Judy's daughter, Shelby, was diagnosed with papillary thyroid cancer at the age of 21.
She was diagnosed in February 2016 and had her thyroid removed that March.
Shelby underwent radio-iodine therapy in July 2016.
She had a thyroid cancer recurrence in her thyroid bed in August 2020.
Shelby had thyroid bed cancer surgery in September 2020.
Shelby had thyroid cancer recurrence (1 lymph node) in May 2023.
Shelby had 19 lymph nodes removed in June 2023 (only 1 lymph node was cancerous).
In her journey with thyroid cancer, Shelby has faced many ongoing health issues and has always maintained a positive attitude.
Shelby has had thyroid cancer recurrence in September 2020 and June 2023, both resulting in surgeries. We are thankful for the continued prayers, love & support from family and friends.
"I'm in awe of how my daughter handled her thyroid cancer recurrences in 2020 and 2023. She continues to rely on her faith, family and friends while still being an encouragement to others."

Mark Hyde
"My faith walk and eight-year cancer and recovery journey has taught me so much about myself while allowing me to share my story to encourage others to persevere and to never give up!"
Shelby Hyde