Heating, Air Conditioning and Indoor Air Quality Services Near Indio, CA
We at Hydes have dedicated ourselves to providing the very best in air conditioning, heating and indoor air quality products and services near Indio, CA, and in Riverside County and surrounding towns near the Coachella Valley.
Our factory-trained N.A.T.E. professional technicians do their very best to avoid dirt, damage, or unnecessary disruption while working. And they will always be thoughtful and personable while acting as representatives of our company.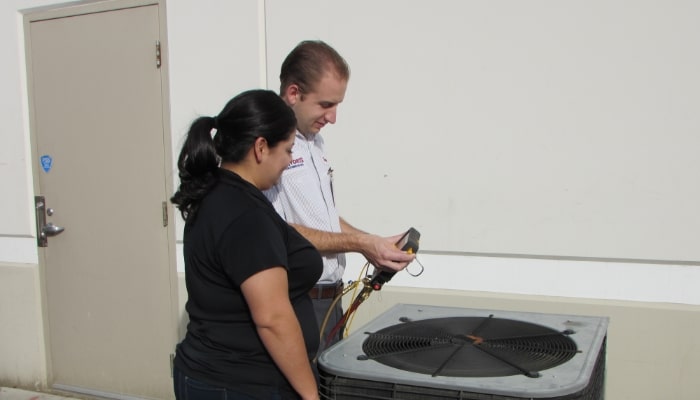 Hydes Residential HVAC Services
While we sell the HVAC products we believe in most, we maintain and repair almost any air conditioning and heating system you have. Our full heating and air services include:
HVAC Installation - From central air conditioning systems to gas furnaces, our replacement services will keep you comfortable in your home. We install all types of new systems including ACs, furnaces, heat pumps and more. We also offer free estimates on new installations!
Heating & AC Repairs - Our team is ready to fix your broken-down AC or furnace with speed and skill! We will service and fix any make, brand or year HVAC system. Best of all, we're available 24/7!
HVAC Service Plans and Maintenance - Regular tune-ups on your heating and cooling system will make all the difference in how your unit performs. Connect with us for thorough maintenance services.
Ductwork - What is lurking in your duct system? With our duct sealing service, your ducts are coated and sealed,  providing your home with clean unobstructed airflow from your HVAC system.
Insulation - You could be losing money right out of your home. If your attic is not properly insulated, valuable climate-controlled air can escape just like that. Call us for smart attic insulation services.
Zoning - Heat and cool your home the smart, energy-efficient way with our zoning services.
Indoor Air Quality - Did you know that our indoor air can be much more polluted than we realize? Connect with our air quality professionals to see what products may be a right fit for your home's air.
Your Full Heating and Cooling Partner
We have proudly served the Coachella Valley area for decades. Our team is happy to bring you the best in-home comfort services. Connect with us today to learn more!