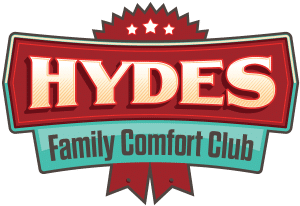 Hydes Family Comfort Club Plan
We live in an area that really gives your air conditioning systems a workout. Hydes offers 3 complete maintenance plans to choose from to keep your heating and cooling systems running at peak efficiency with fewer breakdowns or costly repairs.  
Hydes is here to help you take a more proactive approach to keeping your HVAC system operating at its peak efficiency level throughout the long summer and into the winter season. Regular maintenance is important to the efficiency and longevity of your equipment as well as your comfort.
Great Value | Richard from Bermuda Dunes, CA
"I'm not a big fan of monthly subscriptions but Greg managed to convince me to sign up for Hydes Family Comfort Plan (it covers two visits for AC and furnace in a year, with filter changes). It has been less than a year and I have absolutely no regrets about signing up for it! It was money well spent to bring in Hydes and someone as knowledgeable as Greg on board. He's spotted several issues while here and takes the time to explain them in great detail and fix it. I can tell he takes pride in his work. A true professional. In fact, all the staff I worked with at Hydes have been great and very proactive. Thank you."
Indio's Best AC Tune-Up Service Plans
Hydes Family Comfort Club not only offers our family comfort members exclusive HVAC service benefits, it also restores your equipment to peak condition! Our plans include regular expert tune-ups for your cooling and heating systems near Indio, CA.
What's Included in the Hydes Family Comfort Club Plans?
Hydes Family Comfort Club has three membership levels to choose from to best fit your needs and gives you instant and ongoing advantages upon enrollment. You have your choice of the Bronze, Silver or Gold Plan to keep your heating and cooling systems running at peak efficiency with few breakdowns.
These plans offer one-or-two annual multi-point tune-ups for both your cooling and heating systems.
Bronze Plan members will receive one multipoint AC/Heater tune-up per year as well as discounts on HVAC repairs and trip & diagnostic charge.
Our Silver and Gold Plan members will receive special discounts on all electrical repairs as well as a free electrical home inspection every three years.
Gold Plan members will also have access to a special Gold Club Concierge direct phoneline and a waived HVAC Trip & Diagnostic charge during 8am-5pm business hours. Gold Plan members will also receive 50% off after hours HVAC trip charge (Monday - Sunday).
Hydes will ensure that your heating and cooling equipment is operating at its fullest potential for your investment and that your entire system is working in harmony to deliver the most comfort for your hard-earned dollars throughout the year.
Why Should I Join?
By joining the Hydes Family Comfort Club you will have peace of mind knowing that we will take care of your cooling and heating systems throughout the year. In the event that you need a repair, you will receive a 10% - 20% discount on charges for parts and labor based on which plan you are enrolled. Plus other memebership discounts and benefits.
What Summer Maintenance Includes
Check refrigerant levels.
Check pressures and temperatures to make sure that the system is operating at its peak efficiency.
Check motors, start and run capacitors to help prevent future failure of your unit.
Clear condensate lines to prevent flooding.
And more depending on the plan you choose!
What Winter Maintenance Includes
Carbon monoxide safety check.
Test ignition system and monitor burners, pilot assembly, gas pressure and flue pipe to help prevent future breakdowns.
Test safety controls, verify proper combustion and measure for proper temperatures.
And more depending on the plan you choose!
HVAC Maintenance Frequently Asked Questions
Why should I invest in a service agreement?
For peace of mind. If you have a problem with your cooling system, our office staff will respond upon earliest availability. We only give this kind of around-the-clock, priority service to Hydes Family Comfort Club members—and that includes nights, weekends and holidays. Plus, our Hydes Family Comfort Club gives you annual tune-ups for your central air conditioning and heating systems.
Why are tune-ups important?
Annual maintenance for central air and heating systems can save you up to 10% on your energy bills and prevent breakdowns. Some people think they don't need to tune up their heating system because they don't use it that much. This is not true! Not only is your heating system "on" more than you realize, but it also works together with your central air system to cool your home. Also, tuning up your heating system allows us to check for dangerous carbon monoxide leaks.
Is it worth the cost?
Yes! It's a great bargain. The cost of your Hydes Family Comfort Club is actually cheaper than if you purchased separate tune-ups for your heating and cooling equipment. In addition, for all covered repairs we deduct 15% and for each year you are part of our Hydes Family Comfort Club, you'll earn $100 towards a new system! For as little as $15 per month, you'll keep your system running at peak efficiency for less than the cost of a single movie ticket.
What are Hydes Reward Credits?
Each year that you are enrolled in the Hydes Family Comfort Club you earn $100 in Reward Credits you can use toward the purchase of a new system to replace your current heating and central air system. You can earn up to $1,000 in Hydes Reward Credits with continuous enrollment in our Hydes Family Comfort Club. It's our way of rewarding you for your loyalty!
I have two cooling systems in my home. Will Hydes Family Comfort Club cover both systems?
Yes. About half of our customers have two cooling systems, so we've designed our coverage to include multiple systems if needed, as well as "packaged" rooftop units. If you have a special situation, call us and we'll work with you to design coverage that fits you and keeps you protected.
Does Hydes cover ductless systems?
Yes. We currently cover ductless systems for our Hydes Family Comfort Club members at no additional charge. Please remind your technician at the time of service that you have a ductless system and where it is located.
How does the monthly billing work?
Yes. We can set up an automatic monthly bank draft from your checking account. Monthly billing is convenient and also ensures that you will have "no lapse" in coverage which is important for manufacturer warranties.