Residential AC Repair Service near Indio, CA
AC system not working as efficiently as it used to or not cooling your Indio area home? When something goes wrong with your air conditioning or heating system, call Hydes and we will get to your location ASAP to diagnose and fix the problem! We specialize in HVAC repair services across the Coachella Valley. Our experienced team services any make, model and year of heating and cooling system. Just give us a call at (760) 360-2202 for the fastest and most professional service in town!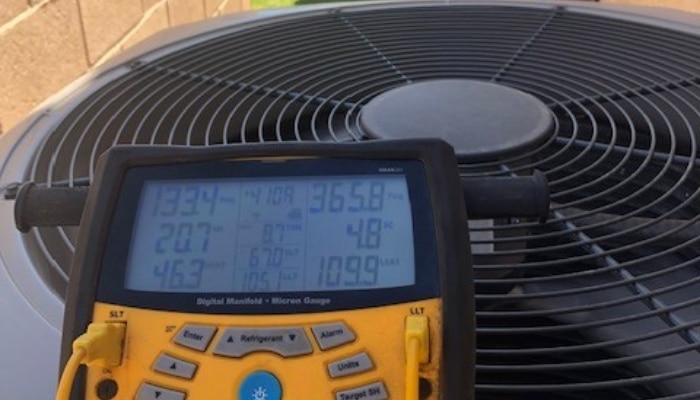 N.A.T.E. Certified Repair HVAC Service
100% of Hydes service technicians are NATE (North American Testing Excellence) certified, which is the standard certification organization for the air conditioning and heating industry in the United States.
All Hydes service techs are thoroughly familiar with all major cooling and heating system brands.
Hydes is also a Google Guaranteed HVAC repair company serving your air conditioning, heating and heat pump systems.
Air Conditioner Repair FAQs
How much does it cost to fix my home air conditioner?
AC repair can cost between $150 and $1650, depending on the problem, labor and the status of the AC unit's warranty. The average total for most air conditioner repairs is about $350. AC leak repair, for example, often costs between $200 and $1,500 to find and repair the leak as well as "refill" the coolant. It is mostly determined by the nature of the problem and the complexity of your equipment, as well as whether or not your warranty will cover the cost.
Why is my home air conditioner running but not cooling my home?
If your house is getting a little hotter than usual, first check the thermostat settings. Check that the temperature is set to cool. If your thermostat is operating properly but you still don't have cold air, check the air filter in your system. If it is exceptionally dirty, this might be the source of the problem. If your central air conditioner still doesn't chill your home after you've established that your air filter is clean, you may need to call in a professional to assist you.
Why won't my home air conditioner turn on?
If your air conditioner won't turn on, the first thing you should look for is a blown fuse or a tripped breaker. If the circuit was overloaded, there's a strong likelihood the problem is a tripped breaker. It's also possible that your air conditioner won't come on because the condensate drain tube is clogged. When the drain pipe becomes clogged, a safety switch triggers, causing your air conditioner to shut down. If this is the case, a shop vac may be able to clear the drain line. Suction can sometimes be used to clear a blockage from a drain line.
Quick Repair | Review from Debbie In Indio
"I called Hydes this morning and they were out this afternoon. No one wants to be without a/c and I figured I'd be out of luck since it was the Friday of a holiday weekend. Maurice was great! Very patient with my questions and he explained everything clearly. He had suggestions but there was no pressure to do anything. I wasn't a maintenance customer when I called but I am now."
Signs That You Need Air Conditioner Repair
Loud Noises or Strange Smells - One of the best ways to recognize that you need an air conditioner repair is if you can "sense" it. For example, if your system is operating louder than normal or is making noises that you haven't heard before, there's likely something that has gone wrong. In addition, if your air conditioner is giving off strange smells, you should contact Hydes right away.
Weak Airflow - Does it seem like air is not blowing out of your registers as powerfully as it used to? Or have certain rooms in your home stopped cooling properly? These issues are most likely caused by poor airflow in your system. First, check to see whether or not your air filter is dirty because that can be the cause of many airflow problems. If your filter looks fine and you're still experiencing airflow issues, you should call Hydes for an air conditioner repair.
Warm Air Coming from Registers - Sometimes your air conditioner might sound like it's working properly until you put your hand over an air register and realize that it's giving off warm air. There are many reasons why your air conditioner might not be cooling your home's air properly, so it's best to have your system inspected and repaired by Hydes.
Water Buildup Around System - A water leak from your air conditioner can be damaging to both your system and the area surrounding it. This often occurs when there is a clog in your system's condensate drain line. Contact Hydes as soon as you notice water buildup so that we can take care of the problem before it causes extensive damage.
Higher Than Average Cooling Bills - One of the less-obvious signs that you need an air conditioner repair is that your cooling bills are on the rise. If you notice that your electric bills are higher than average (and the weather hasn't been hotter than usual), we'll help you determine why your system is operating inefficiently.
System Won't Turn On - Perhaps the most telling sign that you need an air conditioner repair is that your system won't turn on at all. If you've checked your circuit breaker and it looks like your system should be receiving power (and it still won't turn on), give Hydes a call so that we can get your system back up and running.
Your AC Repair Technician Is:
Certified: In addition to NATE certification, we require our service techs to regularly attend factory and in-house training. Hydes provides training for all of our techs in our on-site training facility.

Dedicated: Anyone who works for Hydes understands our philosophy and supports our commitment to superior customer service.

Drug-Free: We promote a drug-free atmosphere to ease your mind, as all of our service technicians undergo random drug testing.

Experienced: We are proud of the fact that when service technicians come to work for Hydes, they stay with Hydes. Our service techs have an average of 11 years on the job. All of our technicians have received extensive on-the-job training, first as apprentices, and finally as fully certified service techs.

Reliable: All of our service technicians take a pledge to uphold Hydes customer-first philosophy, so you know that anyone who comes to your home has our 'seal of approval'. We have full confidence that our service techs can solve virtually any air conditioning and heating problem.

Professional: You'll never see a Hydes service tech that is disrespectful or unprofessional in any way. We take great care to keep our work area clean, and to work as quickly and efficiently as possible, so we don't disrupt your daily routine.