Control Your Home's Temperature & Humidity with a Programmable Thermostat
Up until a few decades ago, most thermostats only came with a few options: heat or cool mode; fan "on" or "automatic" modes; and a range of temperatures to choose from as a set point. But as technology has advanced and people have become more energy-conscious, programmable thermostats with more customizable settings have become more and more common in Coachella Valley area homes.
Hydes will happily update your old thermostat with a new smart model for your Indio, CA, area home and offer more comfort throughout your home with better zoning solutions.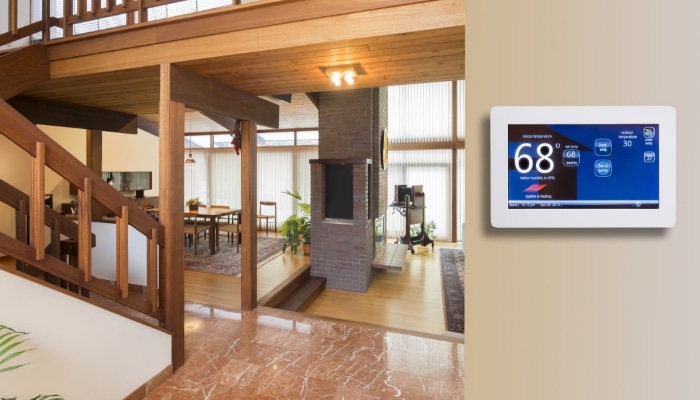 What is a Programmable Thermostat?
Along with the settings that come with traditional thermostats, programmable thermostats give homeowners the ability to store different temperature settings into their thermostats for different times of the day.
Let's say, for example, you and your kids are typically away from home between 9 am and 5 pm. Since your home is unoccupied, there's no reason to waste energy and money on heating or cooling costs. You can tell your programmable thermostat to automatically adjust your home's temperature during those hours of the day. The same goes for the hours that everyone at your home is typically asleep, when there is also less of a demand for heating and cooling.
How much savings can you get out of installing a programmable thermostat?
Today's programmable thermostats allow you to custom-tailor your home comfort based on your family's schedule. Depending on your energy needs, a programmable thermostat could save you anywhere from 5% to 15% or more on your cooling costs. Although you could attempt to achieve the same results by manually changing a traditional thermostat every day, this can be a hassle and it's likely to escape your mind every once in a while. With a programmable thermostat, you can simply program your settings once and let your thermostat take care of the rest.
The units we sell are very user-friendly, with convenient features like interactive touch screens, backlit displays, and menu-driven programming.
With the cost of electricity higher than ever, there's no need to leave your air conditioning on the same setting all day long, every day of the week. With a programmable thermostat, you can program your cooling and heating system to turn on and off at various times of the day at different temperature settings.
Upgrade Your Comfort with Hydes
For the amount of savings potential they provide, programmable thermostats are surprisingly affordable. Contact Hydes today to learn more about these ingenious devices and how they put you in control of your own comfort. Serving Palm Desert, Bermuda Dunes, Palm Springs, Indio, Rancho Mirage, La Quinta and surrounding towns in Riverside County and Southern California.