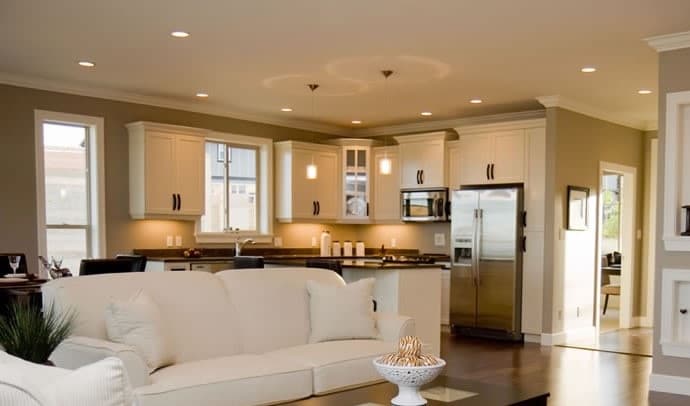 Retrofit LED Lights: The Future of Lighting in Coachella Valley Homes
LED lighting has quickly become the preferred lighting solution for homes, offices, and other establishments due to their energy efficiency, long lifespan, and versatility. Retrofit LED lights, in particular, are an excellent choice for anyone looking to upgrade their lighting system without breaking the bank.
In this month's blog, the pros at Hydes Electrical will show you why, as residents of Coachella Valley, CA, you should consider the installation or retrofit of LED lights in your homes.
The Top Benefits
of LED Lighting
Energy Efficiency
One of the main benefits of retrofit LED lights is their energy efficiency. Compared to traditional incandescent or fluorescent lights, LED lights use significantly less energy to produce the same amount of light. This means that homeowners can expect to see a significant reduction in their electricity bills, which is especially important in areas like Indio, CA where energy costs can be high. Moreover, since LED lights use less energy, they also produce less heat, which can help reduce the load on air conditioning systems during the hot summer months.
Longer Lifespan
Another advantage of retrofit LED lights is their long lifespan. LED lights can last up to 50,000 hours or more, which means that homeowners won't have to worry about constantly replacing bulbs. This can save homeowners a significant amount of money in the long run since they won't have to buy as many replacement bulbs. Additionally, LED lights are very durable and can withstand harsh conditions, making them an excellent choice for outdoor lighting solutions.
Functionality & Design Choices
Retrofit LED lights also offer a great deal of versatility in terms of their design and functionality. LED lights come in a wide range of colors and styles, which means homeowners can choose the perfect lighting solution to fit their individual needs and preferences. Whether you're looking for a warm and cozy atmosphere or a bright and modern feel, there's an LED lighting solution for every homeowner.
Environmentally Friendly
Lastly, retrofit LED lights are environmentally friendly. LED lights do not contain harmful substances like mercury, which is found in fluorescent lights. Additionally, since LED lights use less energy, they reduce the number of greenhouse gases emitted during power generation, which can help mitigate climate change.
Reason to Hire an Electrician to Install Your LED Lighting
Installing retrofit LED lights in your home, can be a great way to improve your lighting while also saving energy and money. However, it's important to keep in mind that installing lighting fixtures, in high ceilings, can be dangerous and potentially cause falls or injuries, especially for seniors in the Coachella Valley.
That's why it's recommended hiring a a professional electrician to install retrofit LED lights, especially in high-ceilinged areas of your home.
Electricians have the training, tools, and experience needed to safely install lighting fixtures in high ceilings. They know how to use ladders and other equipment properly to reach high places without risking falls or accidents. Moreover, electricians are licensed and insured, which means that if any accidents do occur during the installation process, you won't be liable for any damages or injuries.
Be Careful with High-Ceilinged Areas in Your Home
Installing retrofit LED lights in high ceilings can be a complex process that involves running wires and ensuring that the fixtures are properly secured. A professional electrician ensures that the wiring is done correctly, and that the fixtures are securely attached to the ceiling. This will help prevent any potential accidents or injuries that could occur if the fixtures were not properly installed.
Overall, while retrofit LED lights are an excellent choice for homeowners looking to upgrade their lighting system, it's important to hire a professional electrician to install them in high-ceilinged areas. Doing so can help ensure that the installation process is done safely, which can help prevent falls, injuries, or damage to your home. So, if you have high ceilings and want to install retrofit LED lights, make sure to hire a qualified electrician to do the job for you.
LED Lighting is a Smart Investment
From energy efficiency and long lifespan to versatility and environmental friendliness, retrofit LED lights are a smart investment for any homeowner looking to upgrade their lighting system. With their affordable cost, retrofit LED lights are a simple and effective way to improve the comfort, convenience, and efficiency of any home in the Coachella Valley.
Finding the Right LED Lighting Product
While the abundance of information on LED lighting fixtures and retrofit LEDs may seem overwhelming, making a decision doesn't have to be difficult. Whether you choose retrofit LEDs or LED lighting fixtures, you'll benefit from reduced energy use and lower costs for years to come. 
At Hydes, we offer a wide variety of both retrofit LED products and LED lighting fixtures to meet your specific needs. If you need assistance selecting a product or have questions about installing LED lighting in your Coachealla Valley area home, our expert electricians and services are available to assist you through our contact form.