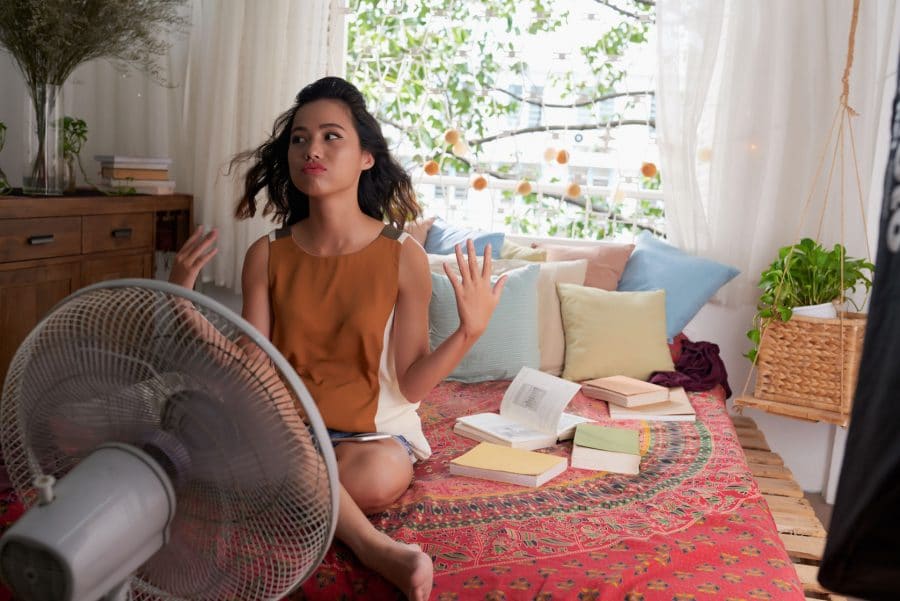 Are you the unlucky person in your family whose room will just not stay comfortable? You've tried everything: lowering the thermostat, running your ceiling fan and even sleeping with no sheets or covers. Why is it that your room is always hot when the rest of the house is perfectly cool? Today we're going to provide some answers the question that's plaguing you: "Why do I have the hottest room in the house?"
Reasons You Have Hotter Rooms in Your Home
Location, location, location. One of the biggest factors that contributes to how comfortable a room can be is where the room is located in the house. If your room is on an upper level, for example, it will tend to be warmer than rooms on lower levels because heat rises. Location is an especially big problem if your room is located far away from the thermostat. It might be nice and cool where your thermostat is located, but that doesn't say anything about how cool your bedroom is. As you'll see below, this is a problem that can be solved with a zoning system.
Windows are letting heat in. If your bedroom has a lot of windows, those windows will allow heat from the sun to get into your room and warm it up. This is especially true if your room faces a direction where the sun beams down on it during the hottest times of the day. If you close your window shades during the day, you can help block out that heat from the sun and keep your bedroom a bit cooler.
Your air registers are blocked. This is an avoidable problem that can fix many comfort issues in your bedroom. Many people will place furniture directly on top of a room's air registers. This will prevent cool air from being properly distributed throughout your room. Although you might have to do some rearranging, you should not have any furniture (especially a bed) sitting right on top of your air registers. Make sure all of the registers in your room are open and can breathe easy.
A zoning system will solve many comfort issues in your bedroom
If you have the hottest room in the house due to the location of your bedroom, you might feel like you're out of luck. But don't worry, because a zoning system could be the perfect solution!
A zoning system allows you to partition your home into separate zones, where each zone has its own thermostat. By giving your section of the house its own zone, your bedroom will be cooled independently from the rest of your home and it will always stay right at your desired temperature level.
If you have any questions about why you have the hottest room in the house, or if you'd like a cooling system serviced or installed, contact Hydes, your Indio, CA, air conditioning contractor.