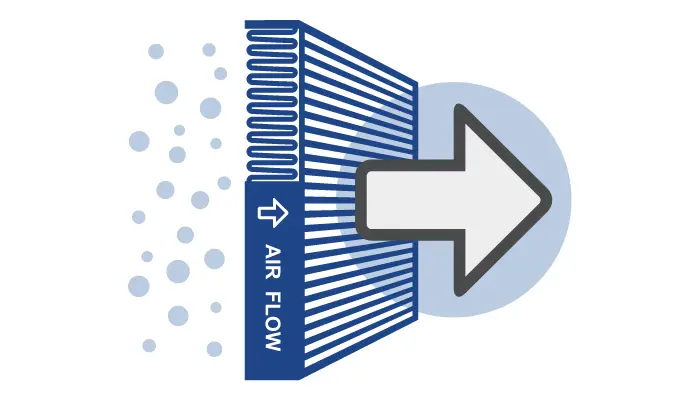 One of the most important maintenance tasks you have as a Coachella Valley homeowner is to check and/or change your air filter about once a month. Although this is a relatively simple task, it's important that you know how to do it the right way so that your HVAC system continues to operate at its maximum efficiency and provide the best indoor air quality possible.
How To Change Your Air Filter
Locate and open your filter compartment. Your filter is typically housed in a compartment located in your return duct or at the entrance to your HVAC system's blower chamber. To access the filter, you may have to remove a door panel and/or unscrew a small metal slot where your filter is housed. If you have any troubles locating your filter, refer to your manufacturer's instructions or simply give us a call at Hydes!
Remove your current filter. After you've opened your filter compartment, remove your current filter. This is a good time to think about how satisfied you were with the performance of this filter. Would you like to have better air quality in your home? If so, you might want to upgrade to a higher efficiency filter or think about installing a whole house air cleaner.
Take out new filter and mark with today's date. With your new filter in hand, use a black permanent marker to mark it with today's date. This will help you remember how long it's been since your last filter change.
Insert the new filter in the proper direction. When you are inserting your new filter, pay close attention to the arrow that's printed on the side of it. This arrow shows you which direction air should flow through the filter. It's very important that the arrow points away from your return ducts and toward your blower motor and supply ducts.
Close your filter compartment. After you've replaced your filter, close up and seal all of the components of your filter compartment that you opened in step one.
Check back in 30 days. Make a note in your calendar to check on the condition of your filter in 30 days. Even if your filter is made to last longer than that, you'll want to check in on it every month to make sure it hasn't gotten clogged.
If you have any questions about how to change your air filter, or if you'd like an HVAC system serviced or installed in your home, contact Hydes, your Coachella Valley air conditioning and heating company.