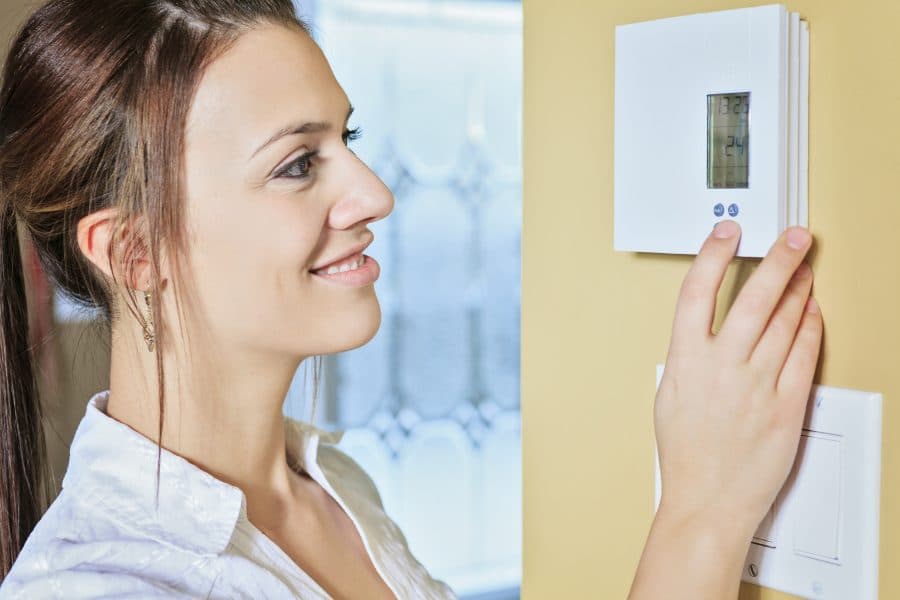 One of the easiest ways to save energy at home is to shut off electronics and appliances that are not in use. By turning off lights, computers, ceiling fans and other energy-consuming products after you are done with them, you can save energy that would otherwise be used to power them for no reason. It might be tempting to think that the same logic extends to your air conditioner when your home is unoccupied, but shutting off your air conditioner can have some unexpected consequences if you do it at the wrong times. Today we're going to help you understand this predicament by answering the question, "Should I ever turn off my air conditioner?"
Should I turn off my air conditioner when my family is gone for the day?
Many homes in the Coachella Valley are unoccupied during weekdays while people are away at work or school. It probably seems like a waste of money to keep your air conditioner running during those hours, so should you shut your system off before you leave for the day?
Turning off your air conditioner during the day will certainly conserve energy, but problems arise when you get back home and turn your system back on.
If you leave your air conditioner off during the day, indoor temperatures will continually rise while you're gone.
By the time you get back, temperatures will be so high that your air conditioner will consume more energy cooling down your home than it would if you left your system on all day.
Wasting energy isn't the only problem with turning your air conditioner off during the day.
When your home gets too hot, food in your cabinets can spoil, your refrigerator will have to consume more energy and the excess heat can become unsafe for pets. In addition, your home will be very uncomfortable when you get back from a long day at work and it will take a long time for it to cool back down.
Should I turn off my air conditioner when my family goes on vacation?
Another common time that people consider turning of their air conditioners is when they leave for vacation. As it turns out, this will only amplify the problems that we described above. When indoor temperatures are high for a prolonged period of time, your refrigerator can break down, electronics can overheat and floors and furniture can begin to crack and warp. Also, because your home's air will not be running through your filtration system, you'll have poor indoor air quality when you get back home.
Should I ever turn off my air conditioner?
So the question remains: should you ever turn off your air conditioner? The only times that it makes sense to turn off your air conditioner completely are when it's cool enough outside to open your windows and allow the outdoor air to keep your home's temperature at a moderate level.
That doesn't mean, however, that you can't save energy when your home is unoccupied. Before you leave for work in the morning, raise your thermostat by about 3-5 degrees in order to lessen the workload on your system throughout the day. In addition, you can raise your thermostat 5-10 degrees before you leave for vacation in order to conserve energy while you're away. The easiest way to do this is with a programmable thermostat, which will change your thermostat settings automatically and have your home comfortable for you again as soon as you walk through the door.
If you have any questions about whether or not you should ever turn your air conditioner off, or if you'd like a cooling system serviced or installed in your home, contact Hydes, your Coachella Valley air conditioning contractor.