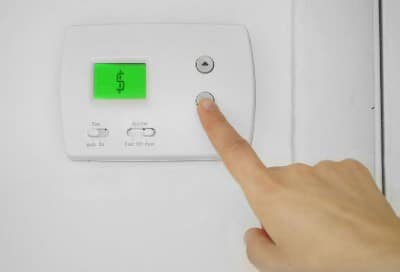 Why is This Happening and What Should I Do?
People tend to be pretty good at guessing the temperature of their own home. So when your Coachella Valley home feels like it's a warm 80 degrees yet your thermostat says it's a cool 70 degrees, you might think your thermostat is reading the wrong temperature. Today we're going to talk about some of the most common reasons why your thermostat would start reading the wrong temperature and the effects it can have on your home.
4 Common Reasons Your Thermostat Displays the Wrong Temperature:
1. Your thermostat sensor is malfunctioning.
Your thermostat itself might be to blame for reading the wrong temperature. In many cases, this can be fixed by having an HVAC professional calibrate the thermostat. This is a quick and easy fix that will make your temperature woes a thing of the past. In some cases, though, you might need to replace it. If that's the case, Hydes can help you find the right new thermostat for your needs.
2. Your thermostat is getting old.
Like any home appliance, your thermostat will eventually get old and start to develop problems like reading the wrong temperature. Replacing your thermostat with a newer model will not only fix your problems, but will also likely give you access to energy-saving features like programmable settings.
3. Your thermostat is not level. 
Many older, mercury thermostats need to be level in order to read the right temperature. If your thermostat was not level when it was installed, or if it was somehow knocked out of position, you might need to readjust its position on your wall in order to get the most accurate temperature readings.
4. Your thermostat is in a bad location.
Perhaps the most common cause of a thermostat reading the wrong temperature is that it is not located in the most optimal place within your home. If your thermostat is in direct sunlight, near sources of heat or drafts, or not centrally-located within your home, it will not give an accurate temperature reading. Check out our guidelines for thermostat placement to learn how to ensure your home's thermostat is properly located.
How does a thermostat reading the wrong temperature affect your home?
No matter why your thermostat is reading the wrong temperature, you should contact Hydes to resolve the problem as soon as possible. A malfunctioning thermostat won't be able to effectively communicate with your air conditioner, leading to inefficient operation, skewed energy bills, and possibly even unnecessary repair calls—no to mention you're home just won't be as comfortable as you want it to be
If you have any questions about your thermostat reading the wrong temperature, or if you'd like an air conditioner serviced or installed in your home, contact Hydes, your Coachella Valley air conditioning contractor, at 760-360-2202.