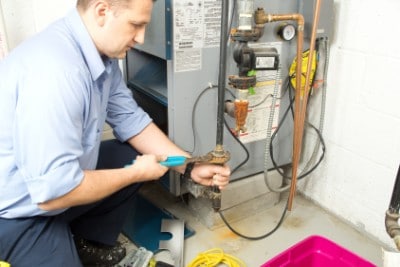 HVAC Safety Features That Protect Your Coachella Valley Area Home From Malfunctioning
When furnaces are working properly, they are perfectly safe appliances to have in your home. But since furnaces burn fuel in order to produce heat, they can develop some serious safety issues if they begin to malfunction. Luckily, there are a number of devices that are installed in various parts of your heating system that are designed to detect when problems occur. Today we're going to talk about the furnace safety features that are included in modern day heating systems and what you can do to ensure that they are working properly!
5 furnace safety features that keep your home safe
Limit switch. A limit switch is essentially a thermometer that measures the temperature of the space surrounding your furnace's combustion chamber. If your furnace is experiencing flame rollout, if airflow through the system has been blocked or if there is a problem with the heat exchanger, the temperature around the combustion chamber will get abnormally high. The limit switch will detect the excessively high temperature and shut down your system in order to prevent a fire or a carbon monoxide leak. Your system will have to be inspected and restarted by a professional like Hydes before it turns back on.
Thermocouple. If you have an older furnace that uses a standing pilot light, a thermocouple is the safety device that makes sure the pilot light is burning safely. Unlike the limit switch, which is triggered when temperatures get too high, the thermocouple is triggered when the temperature that's given off by your pilot light is too low. A low temperature from the pilot light either means that the flame has blown out or that it is burning inefficiently. In either case, carbon monoxide can leak from the gas valve due to incomplete combustion. When the thermocouple is triggered, it will shut off the gas supply to your pilot light to avoid such a CO leak.
Mercury flame sensor. Newer furnaces use intermittent pilot lights or electronic ignitions in place of traditional standing pilot lights. In these systems, a mercury flame sensor is used in place of a thermocouple, and it performs the same job.
Air pressure switch. Another feature found in newer furnaces is a draft inducer. A draft inducer is a fan that blows out any lingering combustion gases from your furnace's combustion chamber before the burners are relit. This prevents tiny explosions from occurring when the burners ignite and also prevents soot from building up on the burners themselves. An air pressure switch is a safety device that ensures the draft inducer is blowing properly. If the air pressure switch detects that the draft inducer is blowing weakly or not blowing at all, it will shut off the gas supply to your furnace in order to prevent gases from building up inside of the combustion chamber.
Carbon monoxide detectors. Although carbon monoxide detectors are not installed inside of your furnace, they are closely related to the safety of your heating system. If your furnace has a carbon monoxide leak due to something like a cracked heat exchanger or a clogged flue pipe, CO detectors will keep you and your family safe by sounding an alarm if carbon monoxide has built up in your home's air.
Schedule an annual tune-up to ensure your safety features are working properly
Like any of your furnace's components, your heating system's safety features require regular cleaning and maintenance in order to continue to work properly. The best way to ensure that your furnace's safety features are in proper working condition is to schedule a tune-up once per year. During your tune-up, we'll inspect and clean all of your furnace's safety devices and take care of any problems that we find so that your heating system will operate safely all winter long.
If you have any questions about your furnace's safety features, or if you'd like a heating system serviced or installed in your home, contact Hydes, your Coachella Valley furnace installation and repair contractor.