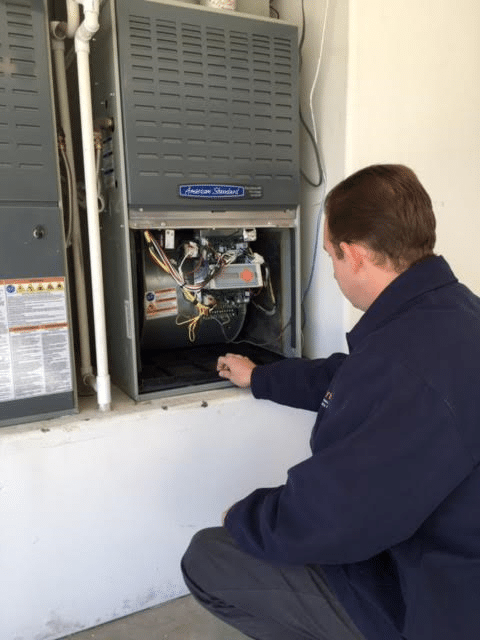 Heat exchangers get a bad rap. As one of the primary sources of carbon monoxide leaks in furnaces, heat exchangers are often talked about in a negative or cautionary light. But the truth is that it would not be possible for a gas furnace to heat your home safely without the work of the heat exchanger. Today we're going to familiarize you with this essential component of your furnace by talking about what a heat exchanger is, how it works and how to ensure your heat exchanger continues to operate safely in your home!
What is a furnace heat exchanger?
A heat exchanger is a metal device that's located inside your furnace. It has two primary purposes.
First, it provides heat to your home's air while your furnace is operating.
Second, it contains the dangerous combustion gases that are produced when your furnace burns fuel so that those gases do not escape and get into your home's airflow.
Essentially, a heat exchanger makes it possible to take advantage of the heat that's produced when fuel is burned without worrying about the dangerous byproducts of the fuel-burning process (mainly carbon monoxide).
How does a furnace heat exchanger work?
When your furnace turns on, its burners ignite and the flames from those burners are directed inside of the heat exchanger. Combustion gases from the burners are very hot, and they heat up the inside walls of the heat exchanger as they flow through it. Because the heat exchanger is made of metal, heating up its inside walls also makes its outside surface very hot.
After the burners heat up the heat exchanger, your furnace's air handler kicks on and begins to blow air over the heat exchanger's outside walls.
Those walls are hot because of the process described above, and heat is "exchanged" from the heat exchanger's outside walls to the air that's blown over it. So instead of having to blow air directly over your furnace's burners, which would carry carbon monoxide and other gases into your home, the heat exchanger makes it possible to contain those gases and acts as the middleman that safely transfers heat from the burners' flames to the air.
How can you keep your heat exchanger working safely?
By now, it should be easy to understand why a crack in your furnace's heat exchanger can be so dangerous. Your heat exchanger's job is to safely contain combustion gases like carbon monoxide, and a crack would allow those gases to leak out and get into your home's airflow. Luckily, there are some things you can do to prevent cracks from developing in your furnace's heat exchanger.
First, make sure to schedule a furnace tune-up every year. Inspecting your heat exchanger is one of the most important tasks that we perform during a tune-up. We'll look for any signs of cracking or rusting and take care of other problems that might cause cracks to develop down the line.
Second, make sure to check and/or change your air filter every month. A clogged filter will cause your heat exchanger to overheat, which puts it through added stress that can cause a crack to develop.
If you have any questions about what a furnace heat exchanger is, or if you'd like a heating system serviced or installed in your home, contact Hydes, your Coachella Valley furnace installation and repair contractor.