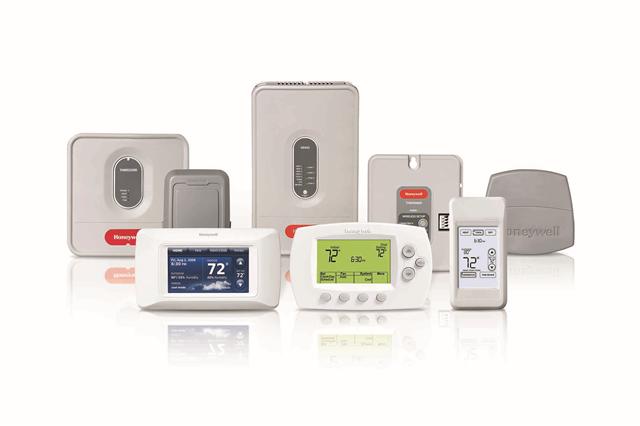 The type of thermostat that you have installed can make a surprisingly big difference on your home's comfort and efficiency levels. Whereas a basic thermostat is only used to adjust your home's temperature levels, an advanced thermostat can provide many more options that will make it easier to control your system and save energy. Today we're going to talk about six reasons why you might want to consider replacing an old thermostat in your home!
Replacing your old thermostat is one of the easiest home upgrades you can make.
The great thing about thermostats is that they are simple to install (by a professional) and are inexpensive when compared to all the other improvements you can make to your home. In fact, often times replacing an old thermostat can pay for itself due to the efficiency improvements you can gain by upgrading to a more advanced model.
Top 6 Reasons to Replace an Old Thermostat
You have a manual thermostat. If you have a manual thermostat, every time you want to change your home's temperature setting you have to walk to the thermostat and do it by hand. This makes it more of a chore if you want to adjust your thermostat to save energy when your home is empty during the day or when people are sleeping at night. If you replace a manual thermostat with a programmable model, you can program your daily temperature settings one time and the thermostat will always adjust them for you so that you can save energy without even thinking about it.
You want more customization options. Even if you have a programmable thermostat, you might not have the kind of customization options for your temperature settings that you'd like. Programmable thermostats are available in 5-2 (weekdays and weekend), 5-1-1 (weekdays, Saturday and Sunday) and 7-day models (every day of the week) that allow you to have different sets of settings for different days of the week. If your family's schedule changes from day-to-day, for example, you might want to upgrade to a 7-day model that better fits with your lifestyle.
You want to know more about your system. The most basic thermostats will only tell you the temperature in your home. A more advanced thermostat can provide you with valuable information like when it's time to change your air filter, when your system is experiencing operational problems and more. If you'd like more behind-the-scenes information about your system, replacing your old thermostat is a great way to have access to it.
You prefer touchscreens to buttons and dials. We live in a digital age when most people interact with their devices via touchscreens. If you prefer a more user-friendly and visually appealing interface, replace your old dial or button thermostat with an attractive and easy-to-use touchscreen model.
You want remote access to your thermostat. Do you ever wish you could adjust your home's thermostat while you're away from home? Maybe you're leaving the office early and you want your home comfortable by the time you get home, or perhaps you forgot to adjust your thermostat before leaving for vacation. Situations like these can be easily solved by replacing your old thermostat with a Wi-Fi thermostat that allows you to adjust its settings from anywhere.
You're upgrading your heating and cooling system. Whether you're completely replacing your home's heating and cooling system or you're making upgrades like adding a zoning system or whole house humidifier, a new thermostat is often needed to be able to properly match your system's specific specifications.
Be sure to check out Hydes great selection of thermostats!
If you have any questions about these reasons to replace an old thermostat, or if you'd like a cooling system serviced or installed in your home, contact Hydes, your Coachella Valley air conditioning contractor.