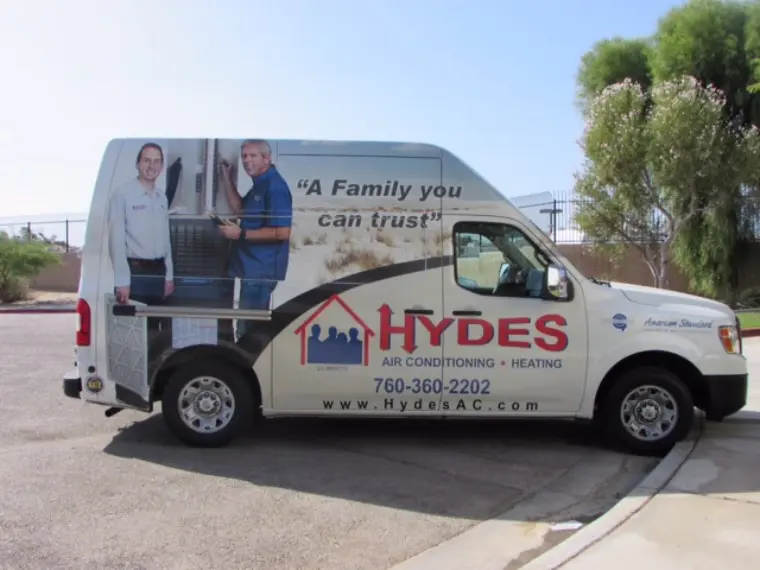 Tips & Advice About Replacing Your Home AC System
With a typical cost of over $10,000, installing a new air conditioner is a big investment. Whether you're paying up front or financing, you need to be sure that the air conditioning unit you buy is going to give you the maximum value for your money.
With the right research and due diligence, you can rest assured that your new air conditioner will be more than worth the investment you put into it.
Choose a Good Local HVAC contractor
There is a lot of information out there regarding AC brands, efficiency scores, tonnage, etc. and it's easy to experience information overload. By working with a trusted local HVAC professional, you get the benefit of their industry knowledge and experience. Hydes has served the Coachella Valley since 1972 and knows the local climate and utilities; we can recommend an air conditioning replacement that will meet your unique needs perfectly. We also have regular new installation rebates & 0% financing specials for qualified candidates.
Take your HVAC Contractor's Advice
Definitely do research and listen to the advice of friends and family, but also make sure you ask your heating and cooling contractor questions throughout the process of choosing your new air conditioning system. HVAC professionals are specially trained to understand the difference between brands and equipment models—and Hydes technicians are NATE certified to prove their skills—and they'll know better than anyone what will best serve your home comfort needs. When your contractor suggests a particular air conditioning unit, trust their judgement.
What Type of System & What Size?
Energy Star products are guaranteed to be 20% more energy efficient than federal minimums, making them a lot less costly to operate. If you can't easily see an Energy Star label, look at the SEER rating instead. The minimum SEER needed to be considered energy efficient in our area is 14, and a SEER of 16 or higher is considered high efficiency. A new air conditioner must have a SEER of at least 14.5 to qualify as an Energy Star product.
You'd be amazed how many people have air conditioners that are the wrong size for their home's needs. If the unit is too small, it will work harder to cool your space and end up needing to be replaced years sooner. On the other hand, if your unit is too large, it will waste energy and cool your home inefficiently, driving up your utility bills.
Your contractor will perform a heat-load calculation, evaluating your home's size, building style, location and cooling needs before recommending the right size system for you.
If your compressor needs to be replaced but not the air handler, you may think it'll be more cost-effective to replace just the compressor, but it's actually better to replace the whole system in a single purchase. This is because the compressor and air handler are designed to work together; a newer compressor will have a different capacity and SEER, or Seasonal Energy Efficiency Ratio, than the air handler you're trying to pair it with, leading to decreased effectiveness and underwhelming comfort.
Don't Forget About Ductwork
If your home has ductwork, it's a good idea to have it inspected when replacing your air conditioning system. Time, seasonal temperature changes, seismic activity and any number of other factors can contribute to the deterioration of your ducts, and damaged ductwork can cause your new AC to be less effective at cooling your home. If you need duct repairs, it's better to take care of them now—before your utility bills go up.
Don't Go By Price Alone
Replacing your air conditioner is expensive, and you want the best value for your money, but the cheapest model isn't necessarily the best value. Make sure the system you choose includes at least a 5 to 10 year warranty and that the contractor you choose has a service guarantee. Hydes has a 100% satisfaction guarantee, which means you don't have to worry that you'll be taken advantage of. When you factor in warranties and service guarantees you may end up choosing a more expensive air conditioning replacement, but it will worth it.
If you're in the market for a new air conditioner, let us know. We'll help you shop savvy so you can be sure that your new AC system is worth every penny.