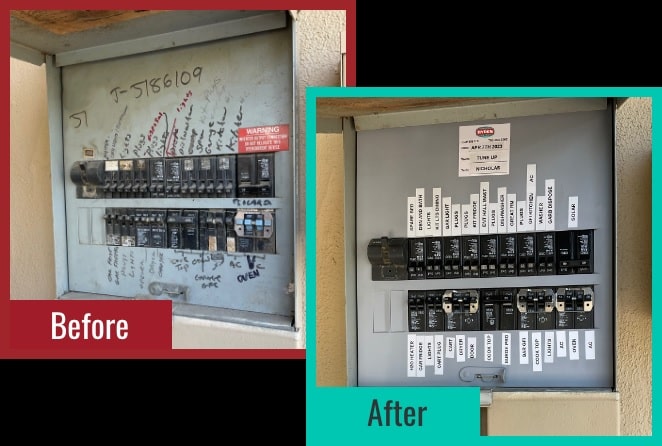 Don't leave your old electrical panel to chance! If your electrical unit has been humming along for close to two decades or has a history of tripped breakers, it's time for an electrical panel tune-up. Routine maintenance will ensure that your system is running smoothly and safely, significantly reducing the risk of electric shock or fire.
You'll lower the risk of a tripped breaker and increase the lifespan of your electrical components.
Circuit Breaker Maintenance near the Coachella Valley
Every electronic device has an expiration date, and your circuit breakers are no exception. After about two decades of service, they start to malfunction, leading to unexpected power outages. Why does this happen? Your electrical panel will start to trip under loads that are lower than they are rated for.
Although it's not always dangerous, unless there are life saving devices connected to the circuits that trip, it can certainly be frustrating. Especially when your TV goes black during the crucial moments of the big game or something that you are watching. Not to mention the discomfort of a faulty AC unit during the hottest days of summer. No one likes that!
It's like your car engine - you wouldn't wait for it to break down before changing the oil. The same applies to your circuit breaker panel. Keep it in top-notch condition before you start having electrical repair issues by scheduling an electrical panel tune-up.
Don't wait until it's too late and risk losing power to important appliances or devices.
When Should I Get an Electrical Panel Tune-Up?
You can get a panel tune-up anytime but with the summer heat approaching, the energy demand will be increasing, which makes it the perfect time to schedule your panel tune-up as you prepare for the increased summer usage in the Coachella Valley.
How To Keep Your Electrical Panel in Good Working Condition
With a panel tune up we not only replace all your breakers except the main, we will check all your connections inside the panel for any loose connections and signs of wear and tear, blow out all the dust and dead critters that have gotten inside, paint the inside panel cover and relabel your panel with a digital label maker.
Additionally, it's important to ensure that the panel wiring is up to code and that all electrical components are working as they should be.
Electrical Panel Tune-Up FAQs
What is an electrical system inspection?
An electrical system inspection is a thorough evaluation of the electrical components of a building or property, including the electrical panel, wiring, outlets, and switches. The inspection is typically conducted by a licensed electrician and is designed to identify any potential safety hazards or code violations.
Do electrical panels need maintenance?
Yes, electrical panels do need maintenance tune-ups near the Coachella Valley. Electrical panels are an important component of any electrical system, and they distribute power throughout a building or property. Over time, electrical panels can become dirty or corroded, which can lead to reduced efficiency and potential safety hazards.
How do you know if your electrical panel is bad?
There are several signs that your electrical panel may be bad or in need of repair or replacement in the Coachella Valley:
Circuit breaker tripping frequently
Burning smells
Buzzing or humming sounds
Flickering lights
Age
If you notice any of these signs, it's important to contact a licensed electrician to diagnose and repair any issues with your electrical panel. Electrical work can be dangerous, so it's always best to leave it to the professionals.
Keep Your Home Powered Up & Worry-Free with a Professional Tune-Up
Your electrical panel tune-up is a valuable investment for property owners in the Coachella Valley. It can improve safety, efficiency, and longevity, while also providing peace of mind and ensuring compliance with codes and regulations.
Have any additional questions? Contact us for your next circuit breaker tune-up with Hydes Electrical Services or give us a call at (760) 360-2202. We can ensure your home's most important electrical systems are always optimized for safety and efficiency.