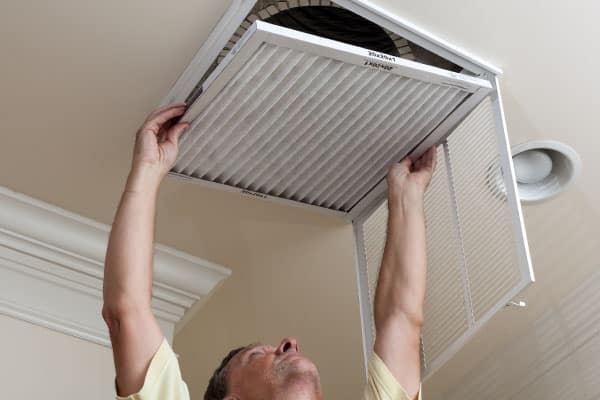 How Can Your Air Filter Affect Your Home Heating Efficiency?
There are a number of things that can affect your furnace's efficiency, but your air filter is one of the most crucial factors. Today we're going to talk about how your air filter can affect furnace efficiency and what you can do to ensure you have great air quality in your home without increasing your furnace's energy consumption!
How the condition of your air filter can affect furnace efficiency
One thing that we're constantly emphasizing when we talk to homeowners in person is the importance of changing your air filter. Besides the lack of protection that a dirty filter provides for your furnace, a clogged filter will also greatly reduce your system's efficiency.
When you think about how an air filter works, it's easy to understand how its condition can impact furnace efficiency. As air from your home cycles through your furnace, the particles that are in the air get trapped by your filter. The longer a filter is installed, the more particles it will trap.
After a long enough time, your filter will trap so many particles that your furnace will have a tough time pushing air through your filter. This forces your furnace to work harder and longer in order to cycle warm air throughout your home, which will greatly reduce your furnace's efficiency.
How the type of air filter you use can affect furnace efficiency
The condition of your air filter isn't the only way that filters affect furnace efficiency; the type of filter you have installed plays an important role as well.
Air filters are given MERV ratings to describe how well they can trap particles from your home's air. A filter with a high MERV rating often uses denser material than a filter with a low MERV rating so that particles have a harder time passing through it. However, a denser filter also makes it harder for air to flow through, which decreases your furnace's efficiency. This is known as a "pressure drop."
The key to choosing the right air filter for your furnace is to find a compromise between effectiveness and efficiency. You want a filter that is effective at trapping airborne particles but isn't so dense that it creates a large pressure drop. One of our technicians at Hydes would be happy to help you find the right filter for your furnace!
Install an air cleaner for great furnace efficiency and air quality
One way to have the best of both worlds is to install a whole house air cleaner. An air cleaner provides the effectiveness of a filter with a high MERV rating (and is typically even more effective) without creating a large pressure drop for your furnace. This allows for excellent home air quality and great furnace efficiency.
If you have any questions about how your air filter can affect furnace efficiency, or if you'd like a heating system serviced or installed in your home, contact Hydes, your Coachella Valley heating and air conditioning contractor.