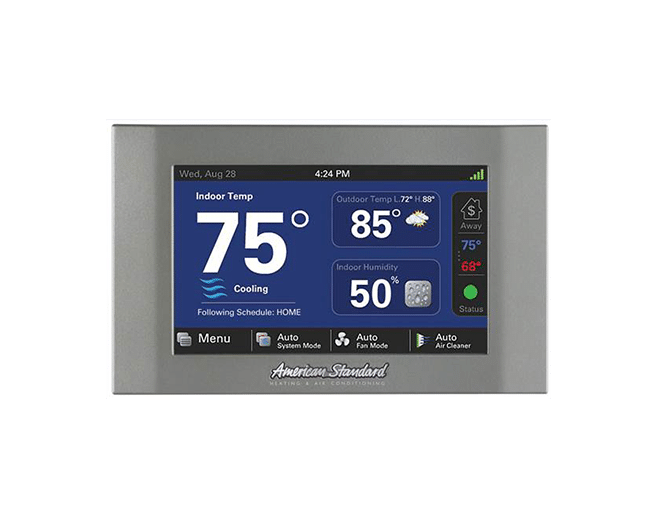 Why They Outperform Manual Models
In homes with manual thermostats, you have to walk over to your thermostat and adjust the temperature setting every time that you want your home to be warmer or cooler. Although manual thermostats can get the job done, you can control your heating and cooling system much easier with a programmable model. Today we're going to explain why that's the case by talking about the benefits of installing a programmable thermostat in your home!
Programmable Thermostat Benefits
Save energy with ease. A programmable thermostat allows you to tell the thermostat what temperatures you'd like to use at different times of the day. You can use a comfortable setting for the times of day that you're at home, and use energy-saving settings for the times of day that your home is empty (like during work and school hours). Once you program your settings, the thermostat will automatically change your home's temperature levels accordingly so you that don't have to do a thing!
Never forget to change your home's temperature. If you wanted to adjust a manual thermostat every day to save energy before you leave the house, you could certainly do that. However, this would require you to remember to adjust your thermostat every single day. If you're in a rush to leave the house, there will certainly be days that you forget to adjust your thermostat. Because a programmable thermostat changes your home's temperature for you, you'll never forget to use your energy-saving settings and your energy bills will be lower.
Have your home comfortable when you want it. One thing that you definitely can't do with a manual thermostat is change your home's temperature settings in anticipation of your arrival. With a manual thermostat, you have to wait to get home to change your home's temperature and there will be a waiting period when your home is uncomfortable. With a programmable thermostat, you can begin to heat up or cool down your home in advance and have your home perfectly comfortable from the moment you step through the door. This is especially helpful when you're returning from vacation.
Get reminders and notifications about your system. Manual thermostats typically only allow you to change the temperature in your home and adjust your system's fan's setting. Programmable thermostats, on the other hand, often come with extra features like reminders to change your filter, notifications for when your system isn't working properly and more.
WiFi compatible. Some programmable thermostats are WiFi enabled, which gives you even more control over your heating and cooling system. Along with allowing you to adjust your thermostat remotely (whether you're in the house or not), WiFi programmable thermostats are also extremely accurate and can even communicate with outdoor sensors to display the temperature outside.
If you have any questions about the benefits of a programmable thermostat, or if you'd like a heating system serviced or installed in your home, contact Hydes, your Indio, CA, furnace installation and repair contractor.