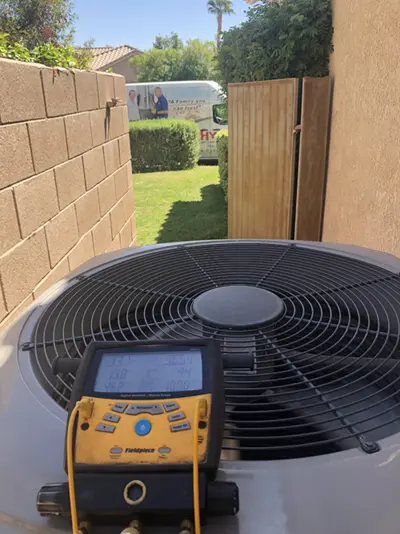 R-22 Refrigerant Phase Out History
In September of 1987, with guidance from the world's foremost climate scientists, the UN adopted the Montreal Protocol, a list of guidelines for every country on Earth to follow to prevent the depletion of the planet's ozone layer and subsequent environmental damage.
It is to date the only UN treaty to have been ratified by all 197 member countries.
Here in the US, the Clean Air Act was passed to implement a Montreal Protocol-compliant schedule to phase out all use of Ozone Depleting Substances (ODS) by January 1, 2020. 
How the R-22 Phaseout Is Affecting Homeowners
Now that the January 1, 2020 deadline on the production and import of the popular HCFC-22 (R-22) refrigerant has officially passed, Southern California and Coachella Valley homeowners might be wondering...
How is this really going to impact me?
The cost of R-22 refrigerant has increased over 50% from 2020 to 2021.
The industry and HVAC contractors can only purchase limited quantities at this time.
While these ozone depleting products will not be taken off shelves quite yet, they will no longer be produced or imported and will eventually be removed from the market entirely.
However, the largest concern now lies in the outdated AC systems themselves, that will likely need to be replaced long before their estimated expiration. When will these seemingly suitable systems need to be replaced?
It's hard to say, but once the remaining national recycled or stockpiled supply of R-22 Freon is depleted, those with an older HCFC system will be out of luck!
R-22 FAQs
Is R-22 Freon still available?
Yes, but the cost is high and continues to increase.
How often should your AC system need Freon (R-22) added?
It shouldn't need adding under normal usage. If you need refrigerant, there is a leak and sometimes it's just a minor leak at the access valves. 
What happens if AC is low on Freon?
The capacity is reduced so it doesn't cool as well. You will notice this the hotter it is outside. It also may cause the evaporator to ice up and/or cause the compressor to overheat.
How to reduce your monthly maintenance costs AND address a long-term solution.
Consider A Drop-In Refrigerant
If your AC unit currently utilizes R-22 but you're not quite ready to replace the whole system, you may want to consider converting it to operate off a more environmentally friendly and less expensive "drop-in" refrigerant. This option keeps your older system running, while avoiding the inflation rates on the dwindling R-22 supply.
Although an appealing temporary solution for many (not all older models can even accommodate a drop-in refrigerant due to the type of oil used), we will be quick to note: Our experts only advise using a drop-in refrigerant if your unit is at least 8 years old.
Converting to an alternative refrigerant such as R-407c will reduce the efficiency and expected lifespan of your R-22 dependent system, as well as void any remaining system warranty. But if it could also save you from the cost of inflated R-22 and buy you some time to budget for a full AC replacement, it might be something to consider!
Begin Budgeting For A New Air Conditioning System Now!
The lifespan of a typical air conditioner ranges anywhere from 10-15 years, so if you have an older unit you may already be budgeting for a new system. In which case, this HCFC ban is of little importance to you. However, if you haven't yet begun budgeting for a new ac system and your current system is 10+ years old, now is the time to do your research.
When purchasing a new unit, you'll first want to determine what type of system best suits you and your home in its current form. If an addition or large-scale renovation was completed without the enhancement of the existing system, a larger or more efficient system might be a necessity. When selecting the contractor for the job, ask these questions and more to determine the best company for such an investment.
Financing specials, in conjunction with manufacturer and/or energy star rebates are other criteria to consider. Hydes AC offers several convenient heating and air conditioning financing options, in addition to our unparalleled service, to ensure upgrading your home comfort system is as painless as possible.
Have More Questions About The EPA R-22 Phaseout?
If your air conditioning unit uses R-22 and you want to discuss switching to an alternate refrigerant or replacing your AC system, give Hydes a call at (760) 360-2202. Our family has served Coachella Valley residents for more than 37 years, and we look forward to serving you!