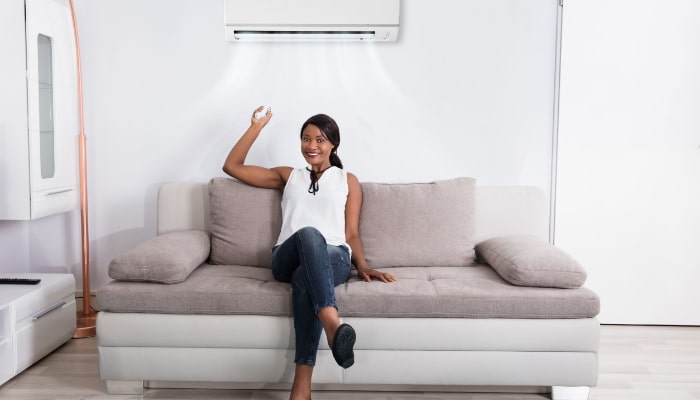 What is ductless heating and cooling?
Today, there are all kinds of different air conditioning systems on the market. Homeowners now have the option to choose a system that's perfect for the design and structure of their home, even in situations where that used to seem impossible. One type of air conditioner that has made this possible is a ductless mini split system.
Today we're going to talk about what a mini split system is and why ductless air conditioning might be right for your home!
As its name suggests, ductless air conditioning is a way to cool your home without the use of ductwork. These systems, known as mini splits, utilize one outdoor condensing unit and one or more indoor units that distribute cool air directly to a room. The indoor and outdoor units are directly connected by refrigerant lines, and homeowners can choose to install indoor units in any rooms they like.
Why a ductless system might be a good idea in your Coachella Valley home
You might be wondering why someone would choose ductless air conditioning over the standard central air conditioning and heat pump systems that are most commonly used. Here are a few common situations in which it would make sense to install a ductless system:
Your home does not have an existing duct system. Some homes are built without installing any ductwork. If you have a home like that, and you do not want to rely on window units, installing a ductless air conditioner would be a great idea because you can save on the costs associated with retrofitting your home to fit the ductwork needed for a standard central A/C system.
You want cooling in a room that does not receive central air. Many people often spend time in rooms that do not receive central air from the rest of the home. A good example is a garage that's used as a workshop. Instead of extending ductwork to those spaces, you can install a mini split system and only use it when you're occupying the room.
You're adding an addition to your home. When adding an addition to your home, it can sometimes be difficult to account for the space that's needed to extend your home's existing ductwork. The refrigerant lines needed for a mini split system are much more flexible and require much less space than ductwork, which makes ductless air conditioning a great alternative for people who are expanding their homes.
You're investing in a tiny home.

As the living small movement has grown in popularity, more and more Coachella Valley residents are opting for tiny homes rather than large, traditional homes. Since most tiny homes are under 500 square feet and built to be mobile, a central HVAC system with ductwork isn't feasible. The outdoor compressor has to remain stationary, and there's not enough indoor space for an air handler and ductwork. Every component of a ductless system, on the other hand, can be wall-mounted and easily travel with your tiny home.
It's important to note that not every home is right for ductless air conditioning. Be sure to contact Hydes so that we can evaluate your home and show you what options are best for the particular dimensions of your house.
If you have any questions about why you would want to install ductless air conditioning, or if you'd like a cooling system serviced or installed in your home, contact Hydes, your Indio, CA, air conditioning contractor at  (760)360-2202.