Backup Whole Home Generator Services Near Indio, CA
You can't change the California heat, but you can prepare for power outages to make sure your family is always comfortable. Hydes standby generator services fortify your home's electrical system to make sure you're covered during an emergency.

We're proud to be an Official Select Certified Generac Dealer for all your installation, repair and maintenance needs in the Coachella Valley. Our trained service technicians bring the skills and inventory to every job to keep your home powered.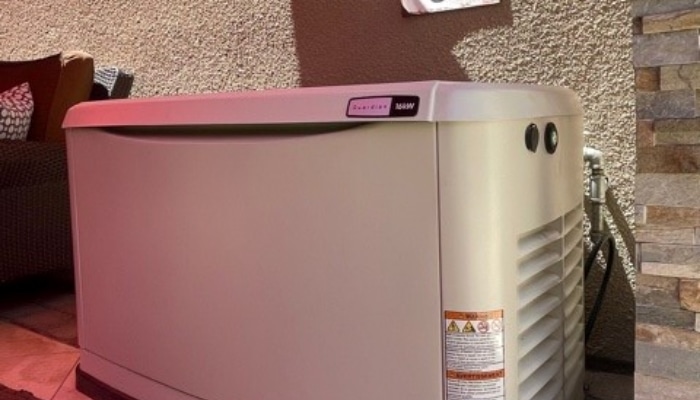 Home Generator Installation FAQs
How much does it cost to install a whole home backup generator?
The cost to install a whole-house generator ranges from $10,000 to $30,000 in the Coachella Valley.
Although somewhat expensive, more families are coming to recognize that a whole-house generator is a vital component for a safe and comfortable home, especially in areas with regular electrical outages like Southern California. Understanding your unique circumstances and requirements is critical to determining how much you should anticipate paying. Contact our licensed electricians to get a whole home generator quote.
Standby Power You Can Trust So You're Never In The Dark
Whole home Generac generator services from Hydes help you keep the lights on no matter what. Even in California rain, shine and blackouts you'll rest assured that your home stays powered to keep you and your family comfortable and safe. Whether you're looking to install a new generator or fix an existing one, we've got you covered. Our Certified Service Dealers come prepared with ample parts inventory to ensure quality service from installation and diagnostics to maintenance and repair.
With our line of Generac generators, you're getting a quality appliance and so much more: 
Peace of Mind. During hazardous weather conditions, the last thing you should have to consider is whether your home will have power. Heating and cooling, refrigerated foods and medical equipment all take a hit when the power goes out. Don't take the risk – call Hydes for guaranteed backup electricity so you can focus on what matters most.
Safety and Security. Anyone who's stumbled through a dark home to find candles during a power outage knows how dangerous it can be. Backup generators from Hydes give you the freedom to move about your home comfortably and keep you and your family safe. We'll keep you out of the dark with power you can rely upon.
Convenience. Whole home generators automatically begin to power your home in the event of an outage. You won't have to worry about the hassle of a flashlight. Generac generators ensure you have the electricity you need to keep going without having to lift a finger.
Long-Term Savings. The longer you're without power in a blackout, the more likely you are to have to pay for it. From spoiled food to missed remote work, the price of going without electricity adds up quickly. Hydes whole home generators will keep your home running, saving you money on preventable waste and electrical repairs.
Energy Through Anything For Every Part Of Your House
Our Service Technicians know the ins and outs of Generac products so you don't have to. Our team stays sharp with periodic recertification in accordance with Generac guidelines, so you get top-notch service every time. We put your comfort and well-being first with generator services that take the guesswork out of keeping the lights on. Don't sweat the what-ifs of a power outage! Call Hydes at (760) 360-2202 for expert generator installation, maintenance and repairs that keep your whole house powered.