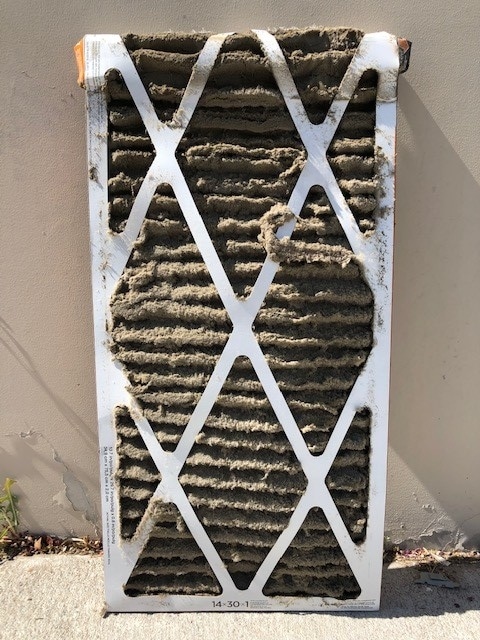 Why Dirt Buildup is So Problematic for Your Home Heating System
Dirt is one of your home heating systems biggest enemies. A dirty HVAC system is much more likely to encounter problems than a clean furnace, and dirt buildup can even cause your system to operate unsafely.
Today we're going to help you understand this issue by talking about:
How your home heating system gets dirty.
How dirt buildup affects various components in your furnace.
What you can do to keep your furnace clean!
How Does Dirt Buildup on Your HVAC System?
Dirt and dust build up on your home's surfaces all the time. When your HVAC system is running, the air that it cycles through your rooms can disturb those dirty surfaces and cause dust particles to get caught up in your home's airflow. As a result, when return is drawn back to your furnace, it contains a certain amount of dirt and dust from your home (not to mention other airborne particles that can affect indoor air quality).
Your air filter protects your furnace from the dirt in the air by trapping dust particles as air flows through it.
The dust gets trapped in the filter's media, while the clean air moves on to your furnace to be heated. If your air filter is clogged, however, dirty air will push its way around your filter because it has nowhere else to go. This can allow dirt to build up on your furnace's internal components.
Dirt can also build up on your furnace naturally over time the same way that it builds up anywhere else in your home, which is why it's important to have your HVAC system cleaned every year.
How Dirty Furnace Components Affect the Performance of Your HVAC System
Dirty air filter. Along with allowing dirt to build up on your furnace's internal components, a dirty filter will also greatly impair the performance of your system. Your air handler has to work much harder when your air filter is clogged, which will significantly increase your system's energy consumption and impair your home's airflow. In addition, a dirty filter can cause your heat exchanger to overheat and crack, which can allow carbon monoxide to leak into your home's air.
Dirty burners. When dirt builds up on your HVAC system's burners, the flames will not be able to burn evenly and at the right height. This reduces the amount of heat that your heating system produces, which forces your system to work harder and consume more energy to keep your home warm. Dirt buildup on your burners can also cause the flames to burn incompletely, which increases the amount of carbon monoxide that's produced inside your system.
Hydes also provides home safety checks on Smoke Alarms and CO2 Detectors. 
Dirty ignition. Whether your furnace has a conventional pilot light or an electronic ignition, dirt buildup on the ignition system can prevent your heating system from igniting properly. A dirty ignition might not get hot enough to start your system burners, or it might prevent your ignition system from starting at all.
Dirty safety devices. Dirt buildup can also affect the performance of your HVAC system's various safety devices. As you might imagine, this can be a big safety concern because your system will be operating without the safety mechanisms that usually keep it in check. When dirt builds up on a safety device, it can either cause that device to go off when it shouldn't (a false positive that can shut down your system) or it can prevent the device from going off when it should (which will allow your furnace to continue to operate unsafely).
How Can You Keep Your Home Heating System Clean?
As we mentioned above, you should schedule a heating system tune-up once per year so that a professional can remove any dirt that has built up on or inside your system since the last heating season. Your HVAC system will always accumulate a certain amount of dirt every year, so a tune-up is essential if you want to avoid the problems listed above this winter.
Another great way to help keep your furnace clean is to check and/or change your air filter every month.
The primary purpose of your air filter is to protect your heating system from dirt buildup, so keeping a fresh air filter installed will minimize the amount of dirt that makes its way to your system's internal components.
Finally, you can help prevent dirt buildup on your HVAC system by cleaning your house regularly. By vacuuming your floors and wiping off dirt and dust from your home's surfaces, you can help limit the amount of dirt that gets into your air in the first place.
If you have any questions about the problems caused by a dirty furnace, or if you'd like a heating system serviced or installed in your home, contact Hydes, your Coachella Valley furnace installation and repair contractor.